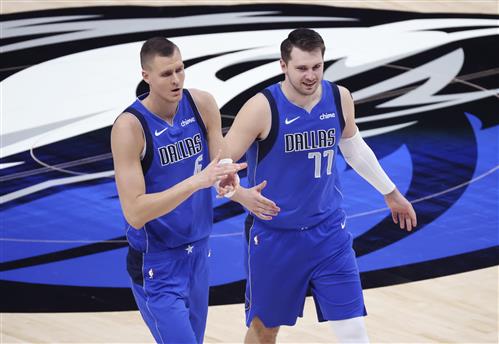 The Dallas Mavericks could make huge changes this summer following another first-round exit. With NBA trade rumors swirling, it seems Kristaps Porzingis is more than open to whatever comes.
Following the Mavericks' Game 7 loss to the Los Angeles Clippers, Porzingis was cryptic with reporters. When asked about his role and future with the team, he said he always tries to be as professional as possible but there is a mental battle and "whatever I do, it's always something."
Read More- NBA trade rumors: Potential summer blockbusters
Everything Porzingis says and does on the court is put under the microscope, that's what happens when Mark Cuban publicly discloses that the Mavericks' two stars have some on-court chemistry issues.
Now, more light has been shed on how Porzingis might really feel about the situation in Dallas.
"But Porzingis has been frustrated, often feeling more like an afterthought than a co-star as Doncic dominates the ball and the spotlight, sources told ESPN. Porzingis frequently made thinly veiled references during his postgame media availabilities, such as saying the "ball actually moved tonight" after high-scoring performances or stating that the offense didn't involve him on low-scoring nights."
It's normal for players to be frustrated with their role after a heartbreaking loss, but Porzingis has seemingly not been happy for a while. After dominating in 2017-'18 with the New York Knicks, Porzingis demanded a trade in January 2019 after tearing his ACL a year prior.