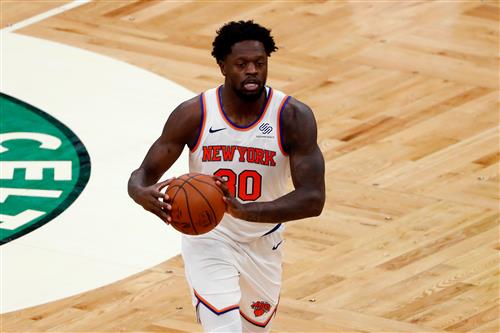 When the New York Knicks signed Julius Randle in the 2019 offseason, they hoped the former No. 7 overall pick would take the next step in his career and could become an impactful player. Fast forward to the 2020-'21 NBA season and Randle could be headed for an even bigger contract thanks to a breakout year.
The 26-year-old forward earned his first trip to the All-Star Game after averaging 23.2 points, 11.1 rebounds and 5.5 assists per contest across his first 37 games. Randle is quickly becoming one of the NBA's next stars and has been crucial to the Knicks' stunning record (37-29) this season.
Read More- Julius Randle Says He Belongs In The MVP Conversation
While the Knicks are focused on holding onto the No. 4 seed in the Eastern Conference, there's already talk about their plans for the summer. New York could have more than $60 million in cap space and the front office might have big plans for how they will spend the money.