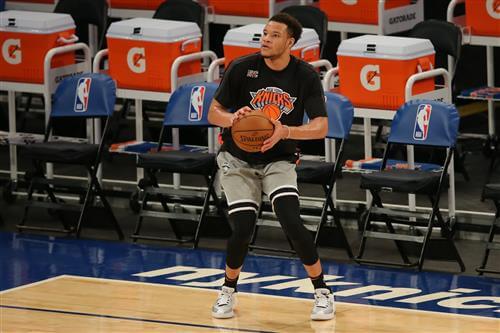 When Sixth Man of the Year candidate Alec Burks was placed in COVID-19 protocols before the Knicks played in Dallas on April 16, Knicks coach Tom Thibodeau said he had two players who could fill the void: combo guard Frank Ntilikina and combo forward Kevin Knox.
Ntilikina and Knox happen to be the Knicks' lottery picks from 2017 and 2018 respectively.
Even with Burks out, Thibodeau had little use for the two prospects. In the six games entering the homestand finale versus the Bulls on Wednesday night, Knox appeared in three of the games for 14 minutes. Ntilikina appeared in three games for eight minutes, including a two-second stint against the Hawks.
During the previous two games, both players were passed over as Thibodeau shrank his rotation to nine men. Knox, in his third season, has been out of the rotation since late January. He has appeared in 39 games — many of them in garbage time.