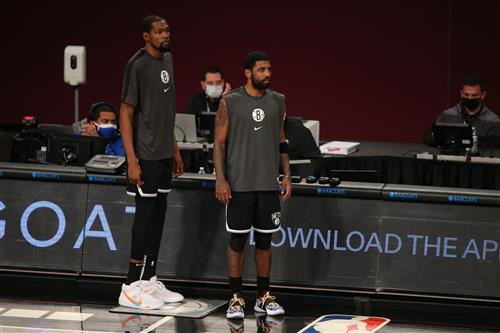 The NBA offseason is off to a turbulent start, jolted in its earliest hours by the mother of all trade requests from Brooklyn Nets mega-star Kevin Durant.
Sportsbooks got in on the opportunity shortly after the huge news, posting not only Kevin Durant next team odds, but offering the same market for Durant's embattled teammate, Kyrie Irving.
With the two stars forcing moves that could drastically shift the NBA title odds, let's take a look at who's favored to land their services for next season.
Odds via DraftKings Sportsbook, July 5, 2022.
Kevin Durant next team favorites
Phoenix Suns (-125)
Durant (surprise, surprise!) reportedly listed the No. 1 seeds from each conference as his most desired destinations, and of the two, the Suns have far more appeal in terms of return assets.
Deandre Ayton, who seems to be on his way out in Phoenix anyhow, could be the centerpiece of a return package flush with both young talent and draft picks that would net Durant while keeping the bulk of the Suns' core intact.