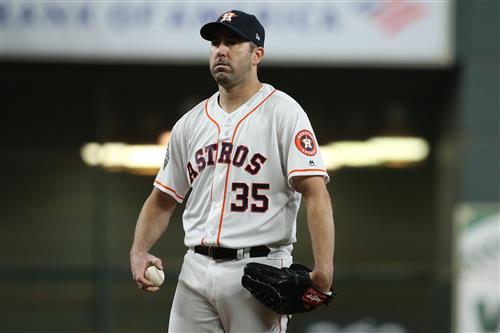 The Hot Stove League can't begin soon enough for most New York baseball fans, and that explains why the most intriguing person of this American League Championship Series might very well be a guy who isn't even here.
Unless the concept of Justin Verlander pitching for the Yankees or Mets doesn't entice you?
Verlander, the two-time Cy Young Award winner and as certain a Hall of Famer as any active player not named Albert Pujols, is on the 2021 Astros' payroll yet not on their roster, not in the second calendar year of rehabilitation from the Sept. 30, 2020 Tommy John surgery on his right elbow. He finds himself in the unusual, if not unique, scenario of spending his entire walk year on the injured list.
Where he finds himself over the winter, that for sure will fascinate, notwithstanding his recent absence from the game. Partly because of that absence, actually.
Astros owner Jim Crane recently told Houston media members that his team "probably" will extend the $18.4-million qualifying offer to Verlander, who will turn 39 next February and made one start last season, a July 24 victory over the Mariners, before shutting it down and eventually requiring the reconstructive procedure. That could be game, set, match for this process, as Verlander, who has spoken of wanting to pitch until he's 45, could accept the sweet one-year payday and bet on himself to put together another stellar season and launch himself back onto a more favorable market.