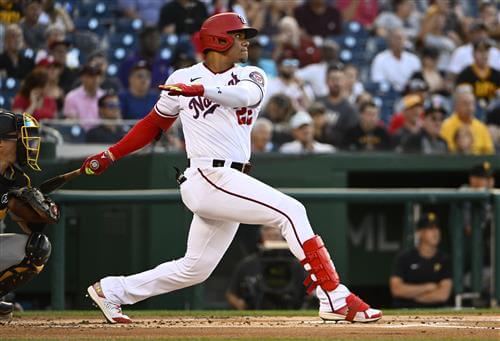 Washington Nationals star Juan Soto is one of the best players in baseball. While he will eventually become one of the highest paid MLB players, it seems reports of a potential contract extension aren't accurate.
The Nationals attempted to sign their 23-year-old outfielder to a lucrative extension this winter. Washington reportedly offered the All-Star outfielder a $350 million extension before the lockout, a proposal he rejected.
Soto, already a two-time selection of the All-MLB First Team, is widely viewed as one of the best hitters in baseball. He's already hit 112 home runs since making his debut in 2018 with many confident the outfielder is a future Hall of Famer.
On Thursday, reports surfaced that the Nationals made progress in negotiations with Soto. Washington reportedly upped its offer to $425 million over 13 years, with a deal seemingly possible. However, it appears that the information was inaccurate.
According to Brittany Ghiroli of The Athletic, numerous sources made clear reports of a $425 million proposal were inaccurate. While there are reportedly active conversations about a long-term deal, the chance of an extension being signed is viewed as a long shot.