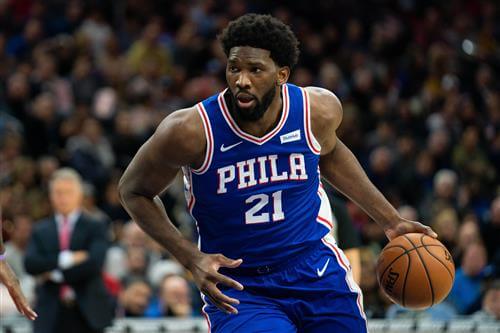 Since March, Joel Embiid has played a little under 27 minutes of competitive basketball.
He was impressive in that time on the floor, recording 30 points and 11 rebounds vs. the Pistons on March 11 after a five-game absence with a left shoulder sprain.
However, the most notable part of Embiid's conversation with reporters Tuesday did not have to do with on-court matters. He said that he "hated" the NBA's plan to resume the season in Orlando and does not believe it is safe enough. As Embiid said, he is more than just a basketball player. It is certainly valid to be critical of the idea of playing in Orange County, where ICU beds are at full capacity in several hospitals because of a spike in coronavirus cases.
Still, we're obligated to discuss Embiid the player, a three-time All-Star starter.
Embiid didn't volunteer many specifics about his fitness but said on multiple occasions he "feels good." Over the last week, Brett Brown and Josh Richardson have praised his conditioning.
"I don't think my weight is an issue," he said. "The only thing to always watch is my body fat, and I feel good. Like I said, I've been chilling. Just doing what I have to do."
He acknowledged Tuesday he did not always play at full intensity this season.
"During this year, there were a lot of times when I was not into the offense and I was just basically going through the same motions and all that," he said. "But with the playoffs coming, I've just gotta be more assertive and just be that guy — just demand the ball and do what I do."
Though no major statistic that might signify aggression — usage rate, free throw rate, post-ups, three-point attempts per 36 minutes — dropped significantly this year for Embiid, he feels he's capable of more. In 44 games, he's averaged 23.4 points, 11.8 rebounds and 3.1 assists, playing 30.2 minutes per game. Brown said last Wednesday he'd ideally like to have Embiid play 38 minutes a game in the postseason.