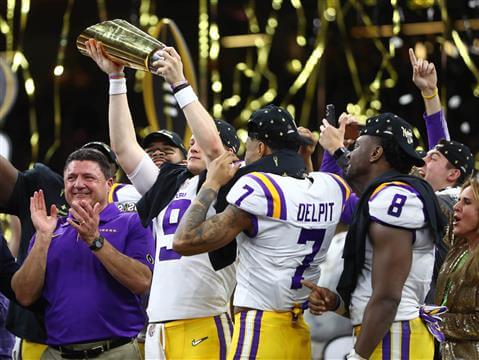 Before the 2019 season started, members of the LSU football team, knowing the national championship game would be in New Orleans, about 80 miles away from their campus, made a resolution: They would not be denied.
They also were confident and prepared, all the way down to knowing their championship ring sizes.
On Monday, in front of a pro-LSU crowd -- as well as President Donald Trump -- the Tigers of Baton Rouge capped off a dominant season, winning the College Football Playoff national championship game, beating last year's champion, Clemson, 42-25 at the Mercedes-Benz Superdome to finish 15-0.
"We weren't going to let someone come in here and steal this from us in our home state," LSU quarterback Joe Burrow, completing one of the best seasons by any college football player in history, said.
It's a location where LSU has had previous success, having won national championships in the Superdome in the 2007 and 2003 seasons during the Bowl Championship Series era. This is LSU's first appearance in the College Football Playoff, which began in the 2014 season.