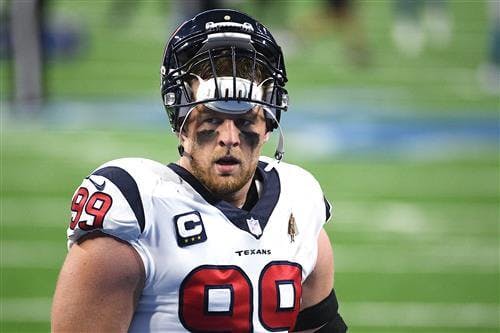 Free-agent defensive end J.J. Watt is reportedly "seriously considering" the Cleveland Browns following his release from the Houston Texans.
Mary Kay Cabot of Cleveland.com reported Tuesday the Browns check all the boxes Watt is seeking in a new team—a Super Bowl contender with cap space, a strong supporting cast and a positive environment—and the front office reached out as soon as he became available Friday.
Watt, who's free to sign at any time since he was released from his contract and is not a standard free agent awaiting the NFL's new league year in March, is attracting plenty of interest despite a dip in production over the past couple of years.
ESPN's Ed Werder reported the Buffalo Bills, Pittsburgh Steelers and Tennessee Titans were among the other dozen or so teams that reached out to the three-time Defensive Player of the Year on Friday.
Watt was the most dominant defensive player in football from 2012 through 2015. He racked up 315 total tackles, 69 sacks, 41 passes defended and 15 forced fumbles over that four-year span.