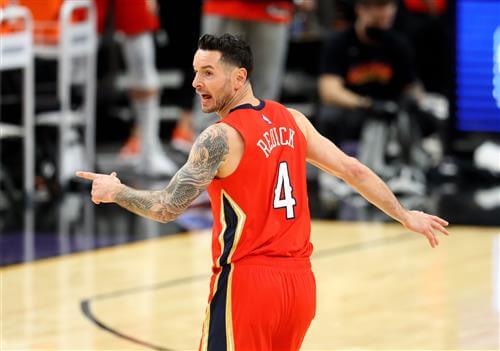 Everyone's favorite journeyman sharpshooter could be on the move again. Shams Charania reports the New Orleans Pelicans have been taking calls for JJ Redick along with Lonzo Ball and are open to moving both.
Given Redick's age and the youth of the Pelicans, it was expected they would at least shop him around this season. Maybe not this quickly, but a 5-10 start is a surefire way to get those wheels turning.
Redick has gotten off to a slower start than usual this season, shooting only 30 percent from deep while averaging eight points a night. But this is a man who has made a career out of reliable shooting, and it will likely come around. When it does, he has value for everybody. The Pelicans won't ask a lot for Redick, but they'll want something better than a second-round pick. Here are four teams that could especially use his services and might be willing to strike a deal.
Philadelphia 76ers
The Sixers are in an ever-present state of needing more shooting. Such is life when your team is built around Joel Embiid and Ben Simmons. Why not bring Redick back for a Round 2? Daryl Morey is not shy about making trades and the Sixers have some back-end roster guys the Pelicans may consider. Redick won't play big minutes with Seth Curry already on the roster, but each little bit helps -- especially when the Sixers currently lead the conference and are shaping up to be a legitimate championship contender under Doc Rivers.