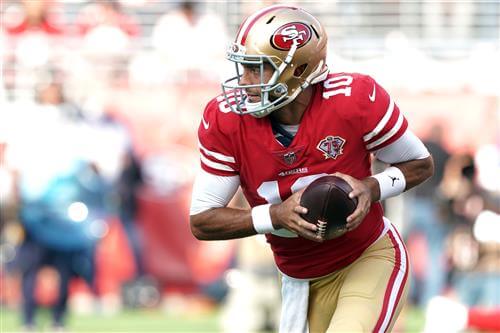 Much like Baker Mayfield, San Francisco 49ers quarterback Jimmy Garoppolo is still waiting for a trade to materialize that lands him with a new team. At least for Garoppolo, there seems to be a timeline for when he'll get his wish.
As quarterback Trey Lance prepares to take over as the 49ers' starting quarterback in 2022, Garoppolo seeks a fresh start. After posting a combined 31-14 record in San Francisco, the veteran signal-caller wants an opportunity to start for another NFL team.
Jimmy Garoppolo stats (2021): 68.3% completion rate, 3,810 yards, 20-12 TD-INT, 98.7 QB rating
Unfortunately for Garoppolo and the 49ers, talks have stalled this offseason. San Francisco initially set a high asking price, believing their quarterback's track record of success in a market with several teams looking for upgrades would net a second-round pick. Months later, NFL teams are set at the position.
Offseason shoulder surgery only made things more complicated. NFL executives were concerned about how Garoppolo would look post-surgery and his inability to throw until July proved worrisome enough for clubs to prioritize healthy passers.