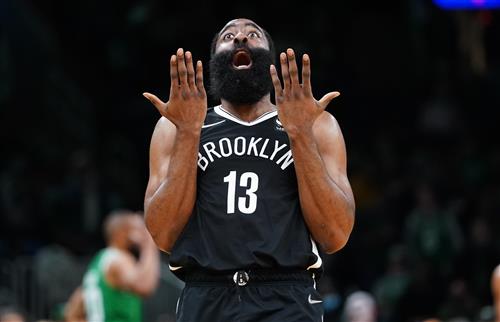 Even for a team that is 14-6 and sits atop the NBA's Eastern Conference standings, the Nets have had a shaky start. Kevin Durant has been an MVP frontrunner all the way, and some of the role players—Patty Mills, LaMarcus Aldridge—have been outstanding.
But two of the critical legs of the Nets' Big Three have not carried their weight. The first, of course, is Kyrie Irving, who has simply not been around the team at all this season because New York City has a COVID-19 vaccine mandate for indoor performers and Irving has refused the vaccine.
The second is James Harden, who has been scrambled and discombobulated all year, for any number of reasons—the change in foul-call rules that once benefitted him so much, the absence of Irving which has put more point-guard duties on him, the hamstring injury to start the year that dragged down his early-season conditioning (which was never a sterling part of Harden's career to begin with).
This, obviously, has had a negative effect on the Nets this year. But it could put both Harden and the team into a difficult position going forward because Harden can be a free agent this summer—and getting a max contract to remain a Net is no longer a sure thing.