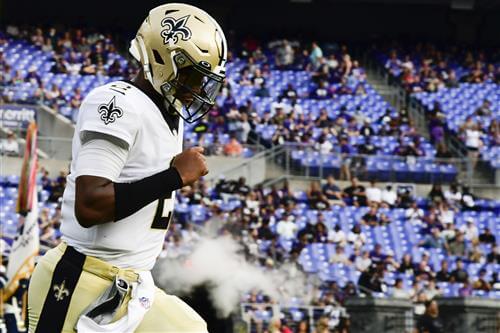 Jameis Winston knows that longtime New Orleans Saints quarterback Drew Brees has officially hung up his cleats — his next stop will surely be the Pro Football Hall of Fame in Canton, Ohio. However, Brees' legacy down in New Orleans certainly doesn't help head coach Sean Payton and the rest of the Saints moving forward as the heralded NFC South franchise has a major decision to make under center before the start of the 2021-22 regular season.
With a Week 1 matchup against the always dangerous Green Bay Packers now only a few weeks away, the aforementioned Payton will need to choose his starting quarterback sooner rather than later. With the 2020-21 campaign serving as Brees' last under center for the Saints, it is now down to the tandem of Jameis Winston and Taysom Hill for the right to be the team's starting quarterback for at least the early portion of the regular season.
Based on both history and the team's first few preseason games, it is abundantly clear that Jameis Winston should begin the year as Payton's starter under center for the Saints. If the Saints want to at least try to win some football games in 2021-22, Winston is the right man for the job — though it is unlikely that Payton will show his hand this far ahead of his team's Week 1 clash with another future Pro Football Hall of Fame signal caller in Aaron Rodgers and the Packers.
Jameis Winston is the best and most natural QB in New Orleans
Although Taysom Hill served as a quarterback during his collegiate playing days as a member of the BYU Cougars, he has never been a natural signal caller atop the highest level. Upon coming into the league, Hill was immediately turned into a Swiss Army Knife of an offensive weapon while former Tampa Bay Buccaneers quarterback Jameis Winston was the No. 1 overall pick in the 2015 NFL Draft. Granted Winston had his ups and downs in Tampa Bay, but all of those turnovers were accompanied by a whole lot of yards and a ton of touchdowns. Winston's natural ability to run an offense and be productive when he isn't turning the football over should give him the edge here. Not only that, but a season on the sideline behind recently-retired New Orleans Saints quarterback Drew Brees probably didn't hurt either.