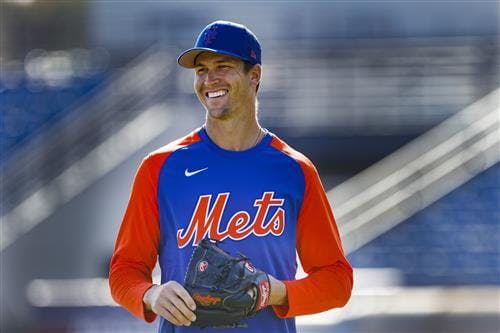 If the Mets decide to negotiate a new contract with Jacob deGrom, it isn't likely to happen until after this season.
Team owner Steve Cohen said Sunday that he won't try to ink deGrom to a new deal until "the appropriate time," which he indicated is not right now. deGrom can opt out of his current five-year, $137.5 million contract in November.
"We're going to play the season and then we'll figure that out, and Jake will do what he does," Cohen said. "We love Jake, and we'll figure it out at some point."
Heading into last year, it seemed inevitable that deGrom would opt out of the contract, given his three consecutive elite seasons, highlighted by a pair of National League Cy Young Awards. It appeared equally likely that the Mets would try to preempt that move by signing deGrom to an extension. But an injury-plagued 2021 changed the equation. For the Mets, extending deGrom now would mean taking on the burden of his health risk in future seasons without seeing how he responds to an offseason of rest.