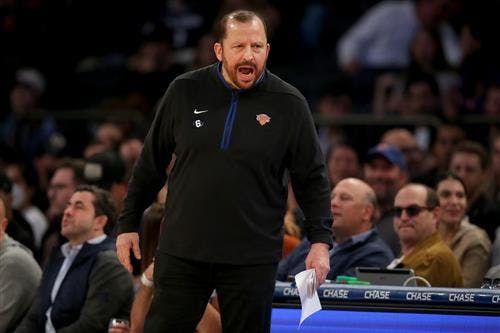 There is no need to mince words following the New York Knicks' no-good, very-bad, sorry-excuse-for-a-basketball-game loss to the Atlanta Hawks on Wednesday night.
It's time to fire Tom Thibodeau.
This is not presented lightly. Jokes are jokes, and who doesn't love a snarky-ass meme? But I genuinely don't like campaigning for people to lose their jobs, not even when those people are earning millions of dollars, and not even when dispensability is the nature of the business.
This is likewise not an attempt to be edgy or incendiary after just seven games, or to evoke "Knicks for clicks!" outrage in the comments. Frankly, this shouldn't be considered an edgy or incendiary or even the faintest bit controversial take.
It is instead a completely logical, level-headed response to what we've watched both this season and last. And not only is it logical, but right now, unless something dramatically changes, it's necessary.
Falling to the Hawks on Wednesday isn't everything. But it is the latest evidence, amid a mind-melting amount of proof, that the status quo isn't working.
New York led by as many as 23 and ended up losing by 13. This was a collapse of epic proportions.
Imploding like this, coming off two days of rest, is so egregious it's almost impressive. To what extent you blame Thibs for this loss, and all the others, will vary. He doesn't play the games. But he is supposed to manage them, adapt to them, evolve over the course of them. He hasn't, and it's clear that he won't.