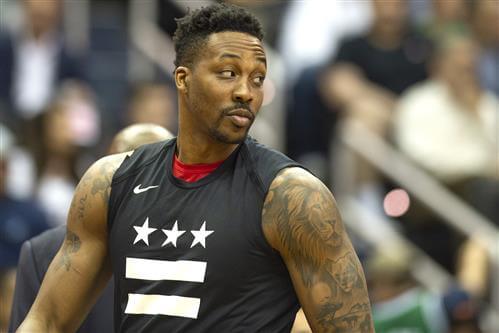 The Los Angeles Lakers aren't seriously considering Dwight Howard, right? That can't be accurate.
Obviously the team is in the market for a backup center after losing DeMarcus Cousins to a torn ACL last week. One of the names to surface as a potential candidate is indeed Howard, a former Laker last seen ejected from his final game in the purple and gold in a playoff sweep by the San Antonio Spurs. Howard, who is currently under contract with the Memphis Grizzlies, is more than just a name linked to the Lakers.
According to Shams Charania of The Athletic, the Grizzlies "are granting the Los Angeles Lakers permission to speak with" Howard.
Howard, who the Lakers acquired in a trade (primarily for Andrew Bynum and draft considerations), was never fully invested in L.A. Even in his introductory press conference, he refused to discuss the future beyond the final year of his contract. The following summer, Howard signed with the Houston Rockets after the Lakers wouldn't commit to moving on from Bryant following the final year of his contract in 2013-14, per ESPN's Ramona Shelburne and Marc Stein.
Bryant and Howard later got into it on the court as opponents in 2014, with the former calling the latter "soft."
Suffice it to say, the Lakers have some negative history with Howard. That shouldn't go unnoticed by general manager Rob Pelinka, who formerly represented Bryant as an agent before he joined the franchise.
And the Lakers aren't the first team to struggle integrating Howard successfully, either.
While he was an elite center with the Orlando Magic in the late 2000s and early 2010s—he fell to Bryant and the Lakers in the 2009 NBA Finals—Howard's numbers have been in steep decline since 2013-14.
His relationship with James Harden ended poorly in Houston (Pelinka was Harden's agent at the time). Howard's subsequent stays with the Atlanta Hawks, Charlotte Hornets and Washington Wizards each lasted one year apiece.