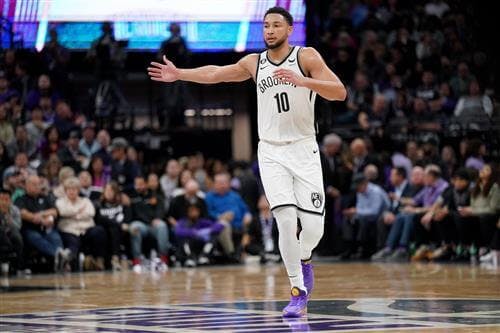 The Brooklyn Nets were embarrassed on national television on Tuesday night, falling 153-121 to the Sacramento Kings in a game so one-sided it had to be seen to be believed.
But after all these weeks of questions surrounding Ben Simmons and his latest round of health woes, there was this silver lining: He not only played, but played reasonably well. In 20 minutes of action off the bench, the much-maligned 2016 No. 1 pick scored 11 points on 5-of-7 shooting – the most points he has scored since June 14, 2021 – while adding five rebounds and three assists.
With Simmons' lack of availability already a major issue for the Nets — not to mention his lackluster play when he had stepped foot on the court — the timing of his return couldn't have been any better. Yet with the Nets desperately trying to save their season amid the recent firing of coach Steve Nash and the unresolved Kyrie Irving controversy, the skepticism about Simmons' ultimate impact remains.
According to multiple sources with direct knowledge of the situation, the frustration surrounding Simmons had been building in recent weeks within the organization. The coaching staff and players have been concerned about his availability and level of play, with some questioning his passion for the game, those sources said. But even when he did play, Simmons' struggles in his first nine games this season were part of the Nets frustration as well.
Simmons made his return from May back surgery to play in the early going of this season, but recently missed eight days to have his left knee drained because of fluid. After beginning the season as the starting point guard tasked with playmaking and pushing the pace, Simmons has been moved to the backup center spot in his last four appearances. It marks the first time he has come off the bench over his seven seasons. He was a late scratch in Sunday's loss to the Lakers, with the team citing left knee soreness as the reason for his absence.
In a discussion with The Athletic on Tuesday, Simmons acknowledged the criticism that he knows is coming his way and shared his view on the matter.