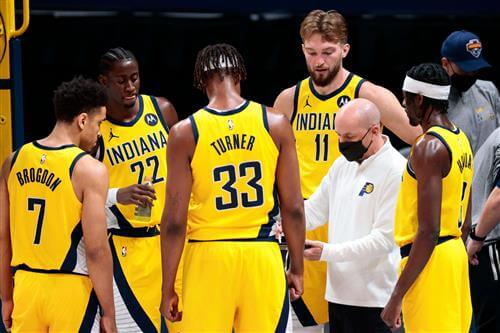 In need of a new direction amid a 10-16 start to the season, the Indiana Pacers are moving toward a substantial rebuild and are expected to open up trade conversations around some of their veteran stalwarts, sources tell The Athletic.
Multiple sources said that the Pacers are receptive in trade dialogue with rival teams centered on potentially moving guard Caris LeVert and either two-time All-Star Domantas Sabonis or center Myles Turner. All three players have frequently garnered significant interest from rival teams. Pacers officials have received frequent calls on both of their big men over the past several seasons, but new head coach Rick Carlisle wanted an opportunity to spend time with Sabonis and Turner and grow with the roster. Even still, Carlisle has remained interested in seeing the frontcourt duo together.
The Pacers are moving toward opening further playing time for Chris Duarte and Isaiah Jackson, the team's 13th and 22nd overall picks, respectively, in the 2021 NBA Draft. Indiana is 13th in the Eastern Conference and fourth in the Central Division. In 24 games this season, Duarte has shown to be a dependable player on both ends of the court, and is a favorite of Carlisle.
The Pacers signed starting point guard Malcolm Brogdon to a two-year extension prior to the start of the season, placing him under contract through 2025 and thus making him ineligible to be traded during this campaign.
It's unclear to rival teams how swift the Pacers could begin to make moves, but it's expected the franchise will be patient in its trade approach and reach decisions based on the best offers that are made.
Sabonis, 25, is regarded as the Pacers' best player. He was an All-Star in 2019-20 and 2020-21. In 26 games this season, Sabonis is averaging 17.9 points, 12 rebounds and 4.1 assists. He's seen his scoring average decrease to his lowest since 2018-19. But the 6-foot-11 big man — who is under contract through 2024 — possesses significant value across the NBA.
Over the past few seasons, the Pacers have faced the question internally and externally: Can Sabonis and Turner co-exist on the floor and help the organization take the next step in playoff contention? The franchise has remained patient by seeing through both big men and their potential together in their primes, but a breakup now appears on the horizon.
The Pacers have been without starting small forward T.J. Warren for the past year, with the breakout Bubble star playing in only four games a season ago and making slow progress this season from an injured left foot. Warren was cleared last week to start light on-court activity, but he remains out for the foreseeable future. To complicate matters, Warren will be an unrestricted free agent next summer.