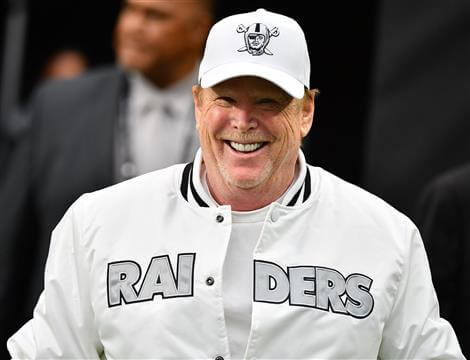 Jon Gruden's resignation from the Las Vegas Raiders following the release of emails he sent to former Washington Football Team executive Bruce Allen continues to reverberate. It's the biggest story in American sports.
Gruden was more than just a Super Bowl-winning coach. He was as recognizable as anyone in the league after decades as a coach, broadcaster, pitchman and self-styled football ambassador. The man couldn't walk across a hotel lobby without three people asking him to pose for pictures and a fourth staking him out at the elevator. I saw it first-hand while traveling with ESPN's "Monday Night Football" production team for five years.
A celebrity coach's demise over racist, sexist, homophobic and misogynistic emails is a sensational story.
It is not the only substantive story now. While Gruden retreats from view and the Raiders deal with the fallout entering their Week 6 game against the Denver Broncos, top NFL leaders have an opportunity — a responsibility — to exert leadership in an area the league itself has stated is critical to its future.
Instead, we've heard a prolonged silence from commissioner Roger Goodell and defiance from Raiders owner Mark Davis. It's a bad look.
"I have no comment," Davis told Paul Gutierrez of ESPN. "Ask the NFL. They have all the answers."
How can this pass as leadership in an NFL that, just 14 months ago, hired its first senior vice president and chief diversity and inclusion officer?
"Here is Roger's chance to seize the day and make a statement," an NFL team exec said. "The powerful statement to make is to say we have a long way to go, but if you don't have a more inclusive mindset, you cannot be a leader in this league — that this is a step in a long journey to have the NFL's actions align with its words, that this type of thinking must be changed, not just the behavior."
With Goodell silent and Davis defiant/dismissive, leadership on the issues of diversity and inclusion has fallen to coaches in the league.
What does it say about the league when the most eloquent, thoughtful comments on the Gruden situation have come from a 38-year-old rookie head coach who wasn't in the league five years ago? The Los Angeles Chargers' Brandon Staley entered this season with a reputation for being ahead of the curve schematically. He seems to be out front in his broader thinking as well.
"Respect and trust in this world are really difficult to achieve," Staley said. "I think about all the people that were affected by those emails. … Because it's a sacred mantel for someone to call you 'Coach' or someone to call you a leader."