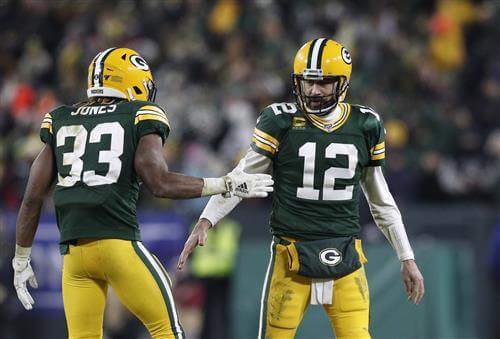 The Packers are headed to their first NFC championship game in three years after holding off the Seahawks 28-23 in Sunday's divisional playoff game. Now another familiar playoff foe is left standing in their way of a return to the Super Bowl for the first time in nine years — the 49ers.
San Francisco won its last two playoff games against Green Bay with a very different team. This year's 49ers, the top seed in the NFC playoffs, routed the Packers 37-9 in Week 12. The second meeting also will be in prime time Sunday (6:40 p.m. ET, Fox) in San Francisco.
In the first meeting on Nov. 24, a lot of things went wrong for Green Bay. San Francisco led 10-0 after the first quarter and 23-0 at halftime. The 49ers enjoyed total domination, doing whatever they wanted offensively and defensively.
The Packers getting past a formidable NFC West opponent like the Seahawks was a good warmup for the rematch with the 49ers. Quarterback Aaron Rodgers (16-of-27, 243 yards, 9.0 yards per attempt, 113.7 rating) was on point with the stakes raised in the playoffs at Lambeau Field. But he got plenty of necessary help to win his 11th career postseason game.
Based on the final team stats against the Seahawks, the Packers need to carry over four elements of success if they plan to upset the 49ers in the NFC championship game.