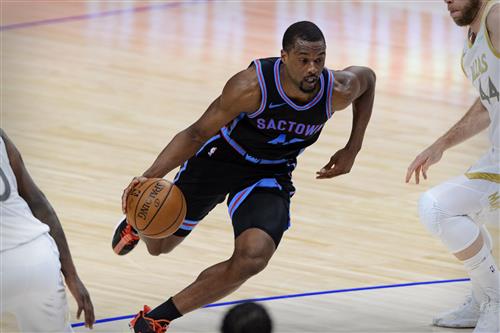 The Los Angeles Lakers will have an important question to answer this NBA offseason. Do they run things back because of how well they played before injuries besetting the team, or do they shake things up and retool the roster?
The health of LeBron James and Anthony Davis is paramount to the team's success. Losing one superstar is hard enough to overcome, but losing both proved to be a death note. Los Angeles thought they had built a good supporting cast, but when they needed them most, they were unable to step up to the plate.
Retooling the roster seems to be the likeliest route that Rob Pelinka and the front office take this offseason. Adding established veterans that can complement James and Davis is what they will be looking for, and there are a few players that fit that bill in free agency.
The Lakers do not have much cap space to make splashes in free agency, but they could build a trade package to upgrade their roster. One player they could target is Sacramento Kings forward, Harrison Barnes.
Barnes is someone that drew a lot of attention heading into the NBA trade deadline this year but ultimately wasn't moved. Those rumors around the NBA won't quiet down now, as teams will be looking to reload for the 2021-22 season.
What could a trade package for Harrison Barnes look like? Here is how the Los Angeles Lakers can land the former North Carolina Tar Heel from the Sacramento Kings.
Los Angeles Lakers Receive: F Harrison Barnes
Sacramento Kings Receive: F Kyle Kuzma, C Montrezl Harrell
In this deal, the Los Angeles Lakers receive veteran forward, Harrison Barnes. In exchange, they are sending Kyle Kuzma and Montrezl Harrell to match salaries.
The thing that stands out from this deal is that there are no draft picks being exchanged. If the Lakers can retain their first-round pick in 2021, it gives them another avenue to upgrade their roster, whether it is by adding a cheap rookie contract or trading it away for another established player.