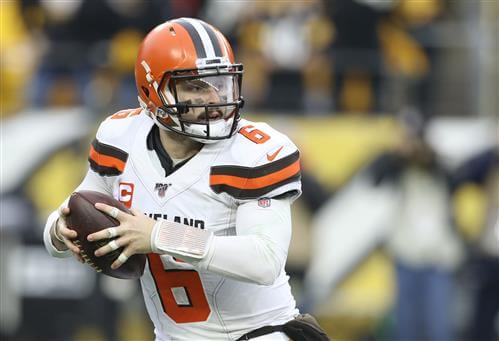 The Browns' offseason has brought an unfamiliar air of optimism to Cleveland. Last season, the Browns tallied an 11-5 record in Kevin Stefanski's first year and followed a stellar regular season with a monumental 48-37 playoff win over the rival Steelers. The Browns' spring — which saw them add big-name players like John Johnson III, Jadeveon Clowney and a lauded draft class — has been roundly celebrated across the football world. Stefanski and general manager Andrew Berry have brought the franchise back on course, and for the first time in decades, it feels as though the arrow is pointing in the right direction.
Yet amid all this excitement, one lingering question hangs over the organization as it prepares for its most anticipated season in years: How should the Browns handle Baker Mayfield's looming contract situation?
With two years left on his rookie deal (Cleveland predictably picked up his fifth-year option in April), there's less urgency about Mayfield's future than there's been with other recent QB deals. But with Mayfield and his 2018 draft mates — notably Josh Allen and Lamar Jackson — now eligible for extensions, some of the conversation in Cleveland has turned to the subject of Baker's new deal. Last month, Mayfield's agent Jack Mills told TheLandonDemand.com that he thinks "something will be done this summer" and that Mayfield's side had no interest in dragging their feet. "I think there's been enough contracts done for quarterbacks lately that give us a pretty good idea of what the market is," he said.
The discourse around Mayfield's deal comes at a fascinating inflection point for QB contracts around the league. It's among the first rookie QB extensions following the disintegration of the massive deals handed to former top-five picks Jared Goff and Carson Wentz. And it's the first after Dak Prescott signed his massive $160 million extension earlier this spring. Arguments both for and against Mayfield getting a sizable new contract this summer represent the considerations that QBs and their teams have to weigh in these negotiations. So what should the Browns do with their starting QB? Well … that's complicated.
The first (somewhat obvious) factor involved in this discussion is how Mayfield has played over his first three seasons, and what that says about his place in the QB pecking order. In his exciting rookie campaign, Mayfield threw 27 touchdowns for an offense that ranked second in Football Outsiders' DVOA over the second half of the season. But Cleveland's offense cratered the following year. Mayfield threw 21 interceptions in 2019, and his poor habits started to spiral out of control. Mayfield had some early season stinkers in 2020, but with help from the structure and guardrails present in Stefanski's offense, he was eventually able to get back on track. Mayfield finished 10th in Expected Points Added (EPA)/play among QBs, and Cleveland's offense ultimately ranked 10th in offensive DVOA. But dig a little deeper into those numbers, and things get knottier.