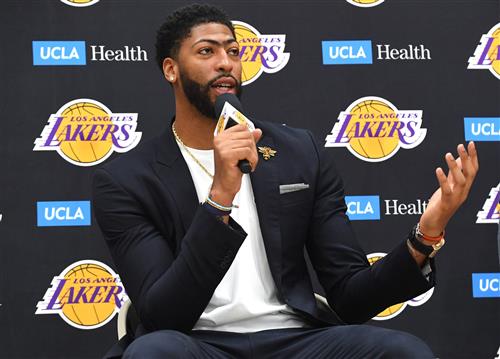 Some may scoff at the notion of Anthony Davis playing anywhere other than Los Angeles in 2020-21, but he can and will turn down his $28.8 million player option, exercise his right to meet with other organizational leaders in free agency and weigh each pro and con next summer.
"When that time comes around next year, you can ask me that question, we can revisit it," Davis said when asked about a long-term commitment at his introductory press conference with the Los Angeles Lakers. "Right now, I'm focused on this year and how I can help this team and help the organization become a championship team."
His agent, Rich Paul, has already addressed the question. As he told Sports Illustrated's S.L. Price before the trade that moved Davis off the New Orleans Pelicans:
"Where he's going to land? I have no idea. And it don't matter. We're going into free agency. Why does it matter to me where he goes? Earth: We're going into free agency. He has a year; he has to play. But after that, I can't say it no bigger: WE ARE GOING INTO FREE AGENCY. 2020: ANTHONY DAVIS WILL BE IN FREE AGENCY."
The Lakers paid a steep price this offseason to acquire the best player in the NBA (at least by his standards), giving up Lonzo Ball, Josh Hart, Brandon Ingram and multiple first-round picks. Regardless of his ranking among the NBA's elite, Davis is in his prime at 26 years old and is one season removed from a top-three finish in the races for both Most Valuable Player and Defensive Player of the Year.
But what if he walks away for nothing?
The Lakers can and should do everything within their power to retain Davis and keep him happy. But that requires five key steps.
LeBron Must Stay Healthy
Davis has made his admiration for LeBron James clear, and it appears the two have solidified their friendship after filming Space Jam 2 together, exchanging jerseys (temporarily) and even spending time with one another at Las Vegas Summer League.
"It was cool," Davis told Arash Markazi of the Los Angeles Times. "I always looked up to him. As a kid, [James] and Michael Jordan were the two guys I [admired]. I didn't get a chance to watch Michael Jordan live, but I watched LeBron a lot after he entered the league, and he was the guy that I looked up to."
LeBron, the ambassador of the Lakers organization both on and off the court, will be critical in securing Davis long-term.
Before injuring his groin on Christmas, coincidentally just three nights after meeting with Davis for dinner in L.A., James had never missed more than 13 games in any previous season of his 16-year career. That would change in 2018-19, a year in which he sat out of 27 games. The Lakers lost 18 of those contests and were 8.3 points per 100 possessions worse with him off the floor.
That 33.3 win percentage would make Los Angeles a 27-win team over the course of a full season.
LeBron's teams haven't been perfect without their King in the more distant past, either. The Cleveland Cavaliers went just 4-23 in contests James missed during his most recent four-year stint, which put them on pace for 12 victories over an 82-game season.
Even in brief stints without his team's other superstar, Davis is unlikely to change that. He probably can't be blamed for the Pelicans' 3-12 record without Jrue Holiday on the floor in 2018-19, as he played in only five of those games. But the Pelicans did go 3-15 with Davis playing and Holiday out during the three prior campaigns, which prorates to just 14 wins in a full season.
If the Lakers are to retain Davis, James' health with be paramount.
They cannot afford to lose either superstar for extended periods with a supporting cast unlikely to parade them through a ruthless onslaught of opponents in the Western Conference, but James has proved he can do more with less. Should the Lakers lose Davis for more than 15 games (his average over seven seasons), James would need to shoulder the burden in his stead. If he cannot, the Lakers risk missing the playoffs, which would be a costly blow in their quest to win over their new star.