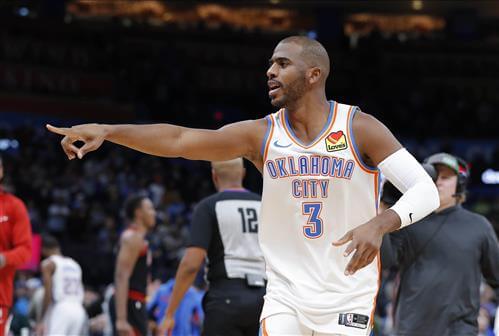 Chris Paul hinted at the uncertainty of the Thunder's offseason.
"I don't know what the future holds," Paul said a day after the Thunder was eliminated in the first round, "but what I can say is that this team, I think I made some connections and bonds with these guys that will last a lifetime.
"I hate that it ended as early as it did, but Oklahoma City will always have a special place in my heart."
Paul's message wasn't necessarily a farewell, but it sure sounded like one. A week later, coach Billy Donovan and the Thunder mutually agreed to part ways. The Thunder couldn't make any roster promises to Donovan, so Donovan left town after five years.
Paul's status will decide how soon the Thunder enters its inevitable rebuild. If Paul isn't traded this offseason, the Thunder could re-sign Danilo Gallinari and trot out the same team that captured the No. 5 seed in the West this season. If Paul is dealt, it's time to tank.
The 35-year-old point guard is under contract for $41.4 million next season with a player option for $44.2 million in 2021-22 that he'll surely pick up.
Paul's contract is still difficult to trade given his salary and age, but there should be a few suitors. These are by no means predictions, but rather ideas of what a trade involving Paul might look like with three teams that have reportedly been interested in him:
Milwaukee
Thunder receives: Eric Bledsoe, Donte DiVincenzo, George Hill, Ersan Ilyasova, 2025 first-round pick
Bucks receive: Chris Paul
Why it makes sense for the Thunder
A 2025 unprotected first-round pick from Milwaukee could be quite valuable if Giannis Antetokounmpo leaves the Cream City.
If not, Donte DiVincenzo makes for a nice consolation prize. DiVincenzo averaged 9.2 points and 4.8 rebounds per game in his second season. He shot 33.6% from 3-point range, which was an improvement from his 26.5% rookie mark. DiVincenzo received two votes for All-Defense.