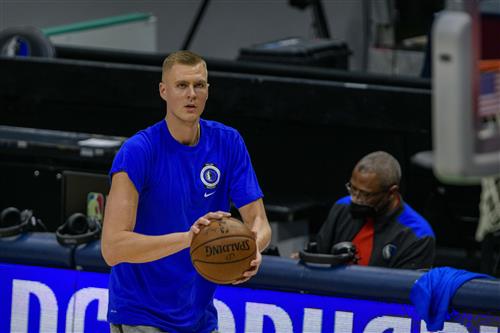 The Dallas Mavericks have to figure out what to do with Kristaps Porzingis. All of the positivity surrounding his acquisition from the New York Knicks is now gone, as things have not panned out as the organization had hoped. Since then, he's found himself mention in a few NBA trade rumors.
Upon acquiring Porzingis, the Mavericks believed they had just created the next great duo in the NBA. With Luka Doncic coming into his own as a superstar, Dallas had just landed a former All-Star who wasn't near the prime of his career yet that could be the foundational pieces of the franchise going forward.
Here we are today and the team is looking for ways to get out of that deal. Porzingis has not been a great fit for the Mavericks, highlighted by his inability to remain healthy. His displeasure with his role on the team is another area of concern when it comes to Porzingis.
He and Doncic are admittedly not friends, which can cause some friction. But, Porzingis feels like he is an afterthought on the team as Doncic dominates the ball and spotlight. His post-game interviews include some veiled shots at his teammate as well.
These all present challenges to Dallas, in addition to Kristaps Porzingis not performing as consistently as the 1B he believes he should be to Doncic's 1A. The Unicorn was nonexistent in the team's first-round playoff loss to the Los Angeles Clippers, averaging 13.1 points, 5.4 rebounds, 1.3 assists, 1.3 steals and 0.7 blocks per game. He made only 29.6 percent of his 3-point attempts as well.
Finding a trade partner for him will not be easy, but some teams should take a chance on him. One of those teams is the Golden State Warriors. What could a deal look like between the two franchises? Let's break it down.
How A Trade Between Dallas Mavericks & Golden State Warriors Could Look
Figuring out landing spots for Kristaps Prozingis is difficult because of his contract. There aren't going to be many teams willing to take on a deal of that size, let alone fit it into their salary cap situation. But, the Warriors can make it happen.
Golden State can use Andrew Wiggins to facilitate a deal for Kristaps Porzingis, as their contracts are almost identical. Porzingis is owed about $100,000 more than Wiggins, so swapping them as centerpieces of a deal will work financially.
Dallas also has a trade exception worth just under $11 million from the deal that sent Josh Richardson to the Boston Celtics earlier this offseason. The Warriors also have three smaller trade exceptions, all of which are $2.25 million or less.