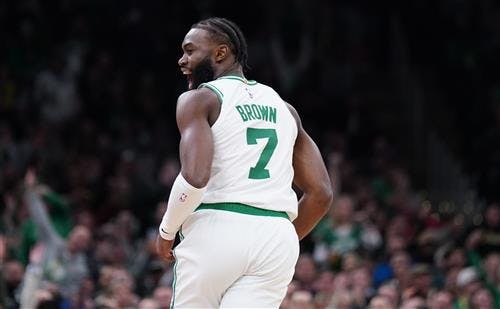 Domino No. 1 of the 2023 NBA trade deadline came crashing down when the Brooklyn Nets agreed to the deal that sent Kyrie Irving to the Dallas Mavericks, an unexpected swap that could trigger surprising fallout.
Rumors, speculation and possibilities always fly fast and furious at this time of year, but the Irving exchange may as well have whipped them into one giant deadline tornado. Somewhere in there, the fates of Kevin Durant, the Nets, the Los Angeles Lakers, the Toronto Raptors and an untold number of other key figures around the league are whirling around.
It's OK if you're disoriented. That's normal.
The Irving trade proved you can't imagine anything too head-spinning when it comes to the deadline. Let's keep that in mind as we cook up a handful of post-Irving trades built on the latest chatter around the NBA.
Boston Goes All the Way in for Kevin Durant
The Trade: Boston Celtics acquire Kevin Durant from the Brooklyn Nets for Jaylen Brown, Derrick White, 2025 first-round pick, 2027 first-round pick, 2023 second-round pick (via POR), 2026 first-round swap.
With Kyrie Irving gone, the Brooklyn Nets must inevitably revisit the doomsday scenario of trading a disgruntled Kevin Durant. It's hard to say whether that falls under new or old business on the front-office meeting ledger. It was only last June that KD demanded to be dealt, and the Nets canvassed the league for offers.
ESPN's Stephen A. Smith suggests the Boston Celtics may be ready to hit refresh on those trade talks: "I'm hearing Boston is making some calls," Smith said on First Take. "Keep your eye on that. Jaylen Brown."
In August, The Athletic's Sam Amick reported a Boston package headlined by Brown was regarded as the best offer on the table. The Nets' counter to Brown, White and a future pick was reportedly Brown, Marcus Smart and multiple picks, and the disconnect ultimately ended talks. But maybe those discussions could resume if both sides compromise.
Here, the Celtics add a true second superstar alongside Jayson Tatum and lean as far as humanly possible into this season's title chase. Having come within two wins of a championship in 2022, Boston knows it's only a marginal improvement away from the promised land. Durant, if healthy, would put the Celtics over the top. He could start and finish games alongside Smart, Tatum, Al Horford and Robert Williams III, with Grant Williams and Malcolm Brogdon providing depth and versatility as sixth and seventh men.
No shade at Brown, who was named an All-Star for the second time this season, but Durant is a whole separate level of threat in a postseason context. He and Tatum together would pose unsolvable problems for defenses, and Celtics head coach Joe Mazzulla could stagger their minutes to ensure one or the other was on the floor at all times.
Brooklyn's side is trickier, and the logical move might be to wait on a KD trade until the summer when more teams could enter the bidding war and drive up prices. Then again, the Nets couldn't get a suitable package for Durant last offseason. There's no guarantee better offers will arise, and it's tough to imagine a starrier headliner than Brown being on the table.
In this hypothetical, the Celtics are juicing their old offer significantly. Two unprotected firsts, a swap on a third and a 2023 second-rounder via the Portland Trail Blazers that could fall in the 30s make up a draft-capital package substantially more enticing than the single pick they reportedly put on the table last time. If that was the best offer then, it stands to reason this would be the best offer now.
If the Nets are going to lose Durant, it's not the worst outcome to emerge with Brown, White and a pair of future firsts.
The Lakers' Fallback Option: Fred VanVleet and Gary Trent Jr.
The Trade: Los Angeles Lakers acquire Fred VanVleet, Gary Trent Jr. and Malachi Flynn from the Toronto Raptors for Russell Westbrook, Max Christie, a 2027 first-round pick and a 2029 first-round pick.
The Los Angeles Lakers missed out on Kyrie Irving, partly because they were concerned about committing to him on a long-term contract, per Jovan Buha of The Athletic.
Sam Amick elaborated prior to the consummation of the Irving-to-Dallas deal: "The two first-round picks (2027 and '29) and promising young players like Austin Reaves and Max Christie (to go along with the expiring contract of Russell Westbrook) might all be in play if the Lakers knew that Irving was willing to align his contract with that of James, his old Cavs friend and lead recruiter who is signed through the summer of 2025 (he has a player option in the 2024-25 season)."
Accounts vary, with Buha reporting Irving wanted to reach free agency this summer and re-sign on a four-year, $198 million max deal and ESPN's Zach Lowe citing a three-year max as Irving's preference. Either way, the two-year extension didn't cut it for Kyrie, and the Lakers wouldn't budge.
Let's all just pause for a moment and appreciate the fact that even the present-obsessed, desperate-to-appease-LeBron, our-window-is-now Lakers essentially left the negotiating table with Brooklyn because they couldn't stomach more than a two-year buy-in on Irving.
Good luck and godspeed, Dallas Mavericks!
For our purposes, the Lakers' willingness to part with just about all of their assets for only a two-year trial run with Irving indicates the team is comfortable with a limited level of risk as it relates to contract status. Fred VanVleet and Gary Trent Jr. can both hit free agency this summer via player options, and you'd assume both will want as many years and dollars as possible, which would put the Lakers to a similar decision. Except, what if FVV and Trent could be retained on the two-year timeline Los Angeles prefers?
Myles Turner renegotiated and extended with the Indiana Pacers, timing up his next free agency for 2025, when the league's new TV deal kicks in, bringing a likely cap spike with it. Perhaps VanVleet and Trent would be amenable to contracts of similar length and the relatively quick re-entry into free agency Turner will enjoy. Even if they do indicate four-year deals are the expectation, it's possible the Lakers would be more open to longer commitments with guys who haven't made unreliability a career-long habit.
Is a brand-new backcourt enough to justify vaporizing 2023 cap space and cashing the only picks L.A. can spend? Could the Raptors do better by trading VanVleet and Trent in separate deals? Or might they even prefer to retain both on new contracts this summer?