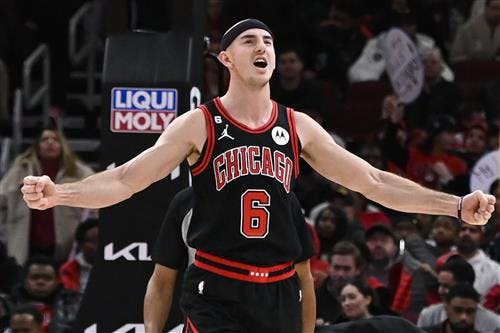 The NBA trade deadline is only 10 days away, and with a robust middle class trying to separate itself from the pack, the league is flush with buyers. Short of an intelligent decision from Rob Pelinka, anything and everything feels possible.
In no particular order, here's a look at six trade recommendations for five organizations that can't afford to let this deadline pass without some type of action.
Phoenix Suns
Phoenix gets: OG Anunoby
Toronto gets: Jae Crowder, Dario Saric, and three unprotected first-round picks (2024, 2026, and 2028)
Even with all their own draft capital and a top-15 player locked up through his prime, the Suns might be the most desperate team in the league right now. Coming off two incredible seasons that included a 2-0 lead in the NBA Finals and a franchise-best 64-18 regular-season record, they're currently just over .500 as the sun (sorry) finally appears to be setting on Chris Paul's Hall of Fame career. But somewhat realistic championship expectations remain (despite having the worst offense in the league this month) for a confident core that's led by one of the game's finest coaches.
With Mat Ishbia reportedly set to become Phoenix's majority owner sooner than later, a splash feels imminent. Would trading three first-round picks for someone who's never made an All-Star team represent a wild overpay? Of course. But for a franchise that's built to win now and has little regard for the draft, why not be über-aggressive?
Paul, Devin Booker, Mikal Bridges, OG Anunoby, and Deandre Ayton are a championship-caliber starting five. Anunoby is an upgrade over Crowder in just about every way and is capable of playing some small-ball five against teams in the West that will downsize during the postseason. Depending on the matchup, lineups that plug Cam Johnson in for Ayton or Paul could be diabolical in a playoff setting.
And not that the Suns should be looking to trade Bridges this offseason, but Anunoby can be viewed as insurance in the event that this new ownership group wants to go big-game hunting and add another star. (Phoenix wouldn't have any picks, which may take it out of any negotiation before it begins, but no other team could match the level of talent Ayton and Bridges bring as a package. Their combined salary nearly matches what Jimmy Butler, Paul George, and LeBron James—nobody should rule this one out!—will make next year.)
The Raptors would do this Suns trade because … come on. It's three unprotected first-rounders for someone who's never made an All-Star team!
Los Angeles Clippers: Part I
Los Angeles gets: Fred VanVleet
Toronto gets: Luke Kennard, John Wall, and an unprotected 2028 first-round pick
VanVleet to the Clippers is too logical not to happen. He'd be rejoining Kawhi Leonard and Norman Powell in an attempt to recreate the magical run Toronto had back in 2019. Right now, Los Angeles's starting five has no point guard. There's no settle-down presence who can initiate offense and make life easier for the two stars. VanVleet can do that and then some.
The main issue here comes after this season, when VanVleet can become an unrestricted free agent in a market flush with cap space. Steve Ballmer may not see an issue with paying VanVleet more money than any other team can, but there will be competition for his services (don't sleep on the Rockets throwing a bag at him), and losing VanVleet for nothing after surrendering a first and Kennard would sting.