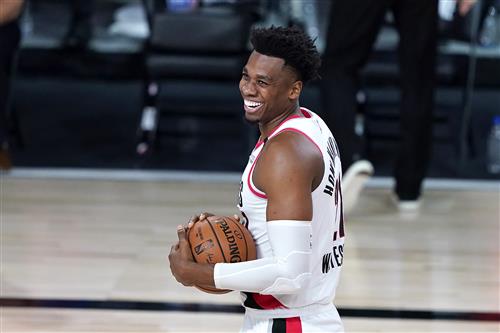 While every NBA team has a wish list for free agency, there are only so many superstars to go around.
Actually, the 2020 offseason really only has one. And it's Anthony Davis, who might be a free agent by title only—assuming he even declines his $28.8 million player option—considering how successful his first go-round with the Los Angeles Lakers has been.
As teams move down from Plan A options, free agency becomes an exercise in compromise. Either the potential reward of a signing drops or the associated risk spikes.
When a gulf exists between the risks and rewards, you have a boom-or-bust free agent. The following five players fit the criteria for this class.
Malik Beasley, Minnesota Timberwolves (Restricted)
1 OF 5
Godspeed to the decision-makers forced to flesh out the substance from Malik Beasley's track record.
He was barely a blip on the NBA radar in his first two seasons with the Denver Nuggets and then had a modest breakout—11.3 points per game on 47.4/40.2/84.8 shooting—in his third go-round. Up next, he played 41 frustrating games with Denver this season (38.9 percent shooting, minus-2.9 net differential), got moved to the Minnesota Timberwolves at the deadline and immediately flashed a higher gear than ever (20.7 points on 47.2/42.6/75.0 shooting).
The problem is his Wolves' run spanned all of 14 games. Oh, and Minnesota fared a whopping 9.3 points worse per 100 possessions with him than without.
So, what exactly happened during that stretch run? Did Beasley race around the corner and dramatically increase the incline of his career trajectory? Did he simply time a hot streak perfectly right? Was this the harbinger of difference-making stats to come, or were these just empty numbers on a bad team?
Minnesota is basically pot committed to finding those answers. The trade alone signaled a willingness to re-sign him, and President of Basketball Operations Gersson Rosas is on record that the Wolves are "big fans of Malik."
Beasley's shooting should hold up (career 38.8 percent from distance), but unless he's paid as a specialist, the Wolves would need more from him. That's where his next contract could go awry, as he has never been confused for a ball-mover or a defensive stopper.
Montrezl Harrell, Los Angeles Clippers (Unrestricted)
2 OF 5
To say Montrezl Harrell had a rough go in the postseason is like saying Luka Doncic impressed in his sophomore season. Both things are true, but they're grossly understated.
Harrell was virtually unplayable for the Los Angeles Clippers. They were outscored by 11.6 points per 100 possessions when he played. When he didn't, they outscored their opponents by 15.6 points per 100 possessions. For the non-math majors out there, that's a difference of 27.2 points per 100 possessions in the wrong direction.
Some have speculated the disastrous stretch will cost him money in free agency. Given the unique nature of this postseason and the fact that he was dealing with a personal tragedy, though, suitors might overlook the rough patch for the reigning Sixth Man of the Year. L.A. witnessed the disastrous play firsthand and reportedly hasn't lost interest, and others haven't either.
"Harrell and the Clippers have mutual interest to find a deal, but Harrell is expected to be sought-after in the marketplace and have multiple suitors," The Athletic's Shams Charania wrote.
No matter how one perceives Harrell's postseason play, it was emblematic of the concerns with his free agency. He has clearly mastered the spark-plug substitute role, but can he grow his game beyond that? Can he rebound and defend at a high enough rate to start games and handle a heavier workload? If he can't, will that limitation be factored in to his contract cost?