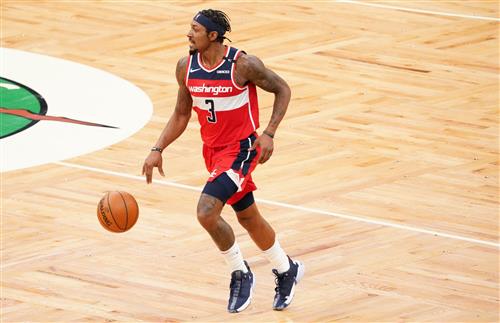 The pingpong balls have spoken.
The 2022 NBA draft lottery results are in, and the celebration is on in the Sunshine State after the Orlando Magic won the No. 1 overall pick. The Oklahoma City Thunder, Houston Rockets, Sacramento Kings and Detroit Pistons round out the top five in that order.
Up next comes a series of workouts, interviews and enough mock drafts to run through almost every possible outcome. Meanwhile, trade machines are about to start churning now that franchises (and fanbases) know exactly where they will be picking and, of equal importance, which specific selections are now up for grabs.
We're here to contribute to the hypothetical wheeling and dealing with a quartet of trade ideas that grew more realistic after Tuesday's drawing.
Portland Pounces on Jerami Grant
Portland Trail Blazers receive: Jerami Grant
Detroit Pistons receive: Eric Bledsoe, Keon Johnson and No. 7 pick
Since tanking through the season's second half, the Trail Blazers haven't masked their desire for a rapid recovery. They also haven't really kept a lid on their interest in versatile swingman Jerami Grant, whom B/R's Jake Fischer described as "[seeming] to be at the top of their list."
It all makes sense since they're building around 31-year-old Damian Lillard, who clearly needs more win-now support. With both Portland and Detroit failing to move up at the lottery, the arrows should be aligned to make this happen.
The No. 7 pick is good, but not so good that the Blazers should balk at its inclusion in a deal for an accelerator like Grant. The Pistons, meanwhile, might be more willing to accept that their rebuild could take some time without another blue-chipper coming to town. In that case, expanding this Cade Cunningham-led core with the Nos. 5 and 7 picks should hold more appeal than keeping the 28-year-old Grant around and giving him a new deal between now and next summer.
The Blazers desperately need a multi-dimensional stopper like Grant, and their offense should have enough opportunities available for him to find the prominent scoring role he reportedly seeks, per Fischer.
Back at the trade deadline, Fischer reported Detroit wanted "two first-round picks or one first-round pick plus a high-upside young player." This deal could scratch that itch. It might be debatable how much upside Keon Johnson actually offers, but he's also a 20-year-old with only one season and less than 700 career minutes under his belt. Besides, the Pistons aren't just getting a first-round pick. It's the No. 7 overall selection.
Add Eric Bledsoe as a money-matcher, and this long speculated swap could finally have enough legs to reach the league's transaction log.
Knicks Add Offense, Rockets Get Younger
New York Knicks receive: Christian Wood and Eric Gordon
Houston Rockets receive: Mitchell Robinson (sign-and-trade), Cam Reddish and Kemba Walker
The 'Bockers just finished with a bottom-10 offense for the fourth consecutive season (23rd overall this time around). They need scoring and spacing in a bad way, and this swap could deliver both.
Christian Wood might struggle with consistency, but he remains among the Association's most tantalizing talents at center. There aren't many players with his combination of size (6'10"), skill and athleticism. If he managed to avoid getting on Tom Thibodeau's bad side and leaned on the seasoned skipper to improve his defense, Wood could be a real asset.