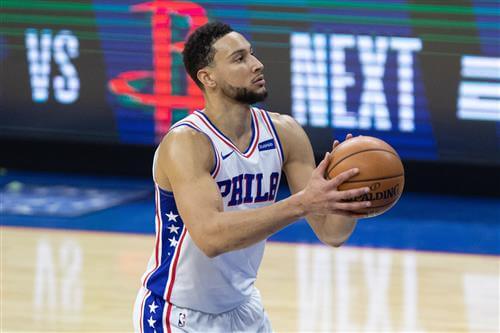 Yes, it's premature to say Ben Simmons will be on the trading block this offseason. It's probably more than likely that the Philadelphia 76ers will hold onto them. With that being said, Philadelphia is fresh off a disappointing playoffs exit where Simmons was largely a non-factor on offense, especially in crunch time. Simply put, it's rough for Philadelphia to keep their $177 million man on the bench to close out games. A shake-up may be what this team needs.
Go Big or Go Home
The trade: Philadelphia sends Simmons, Tyrese Maxey, and two future first-round picks to the Portland Trail Blazers for Damian Lillard.
This trade, of course, requires Lillard to demand a trade. If not then there's virtually no scenario where Portland gives up their superstar. If he wants out, Lillard will surely know that teaming up with Joel Embiid will form of the best one-two punches in the entire league. This actually makes Philadelphia a lot better, which is often rare when trading a max-level player. Losing out on a promising young player like Maxey and future picks may sting, but it will all be forgotten once Lillard averages over 25 points per game and takes the Sixers for a ride into multiple deep playoff runs.
For Portland, they offer Simmons a fresh start. It's clear he struggles with shooting, but overall Simmons is still a special talent. He's a freak athlete, one of the best defenders in the entire league, and a great passer. Simmons will also just turn 25-years-old this summer, so he's still about to enter his prime years.
In addition, Maxey is looking more and more like a potential starter in the future. His rookie season was very strong, and he even played important minutes in the playoffs. He's also just 20-years-old.