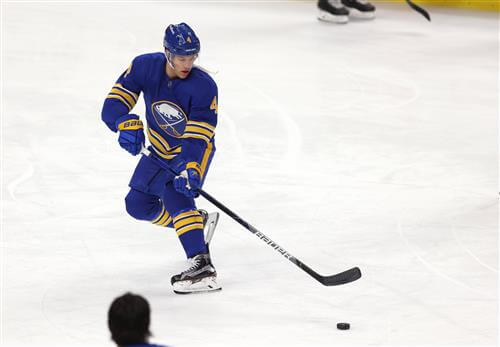 After failing to reach the playoffs for nine years, the Buffalo Sabres pulled off quite a coup last October by signing left wing Taylor Hall to a one-year, $8 million contract.
Hall, 29, was expected to skate alongside first-line center Jack Eichel. If they meshed well and the Sabres became a playoff contender, it would improve his chances for a better contract with Buffalo or another club this summer.
However, things haven't gone well. Buffalo is at the bottom of the MassMutual East Division standings, 10 points out of a playoff berth. The 2018 Hart Trophy winner is fourth among Sabres scorers with just one goal and 12 points in 19 games while seeing mostly second-line duty.
On Feb. 18, TSN's Pierre LeBrun reported there was mutual interest in a contract extension, and talks can begin March 12. But if an agreement isn't in place before April 12's trade deadline, Sabres general manager Kevyn Adams could attempt to deal Hall or risk losing him this summer for nothing.
Hall could interest playoff contenders as a rental, and his depressed stats could also make him more affordable. The Arizona Coyotes parted with two conditional draft picks and three prospects to acquire Hall from the New Jersey Devils in December 2019. He probably won't cost that much this time around.
Finding the right fit could prove difficult, though. Few contenders can afford to take on his contract, and he has a full no-movement clause. The Sabres could also be forced to absorb part of his $8 million cap hit to facilitate a trade.
Despite these issues, Buffalo should be able to find a suitable landing spot for Hall if he'll waive his clause. Here's a look at five candidates.
Boston Bruins
The Boston Bruins remain among the NHL's best teams. They're jockeying with the Washington Capitals for first place in the East Division. Acquiring a top-six winger like Hall could boost their hopes for a Stanley Cup run.
A lack of reliable second-line scoring depth continues to plague the Bruins. A highly skilled player such as Hall could be a good fit alongside center David Krejci and right wing Craig Smith. Left winger Nick Ritchie could shift down to the third line alongside center Charlie Coyle and right winger Jake DeBrusk.
With $9.7 million in deadline space, the Bruins have room to add Hall's remaining cap hit ($4.6 million). General manager Don Sweeney could ensure additional space by trading a player to the Sabres. He could also request Buffalo retains a portion of Hall's cap hit, up to the maximum of 50 percent.
The Sabres' asking price could include a winger such as DeBrusk along with a draft pick or prospect. The 24-year-old struggled this season but has put up two 40-point campaigns. Or the Bruins could offer Anders Bjork. With just three points in 18 games, the 24-year-old left winger hasn't played up to expectations but could benefit from a change of scenery.
Carolina Hurricanes
The Carolina Hurricanes are among the four playoff contenders pulling away from the rest of the field in the Discover Central Division. However, a slump or a slew of injuries to key forwards could put them into the market for Hall.
General manager Don Waddell made a move earlier this season, acquiring forward Cedric Paquette from the Ottawa Senators to boost his checking-line depth. Secondary scoring depth also remains a concern, as they've shuffled players in and out of their second-line left-wing position.