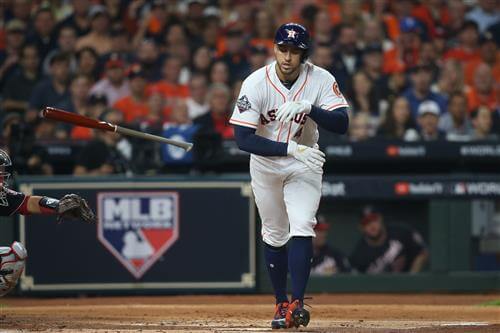 Free agent season is upon us! It will be unlike any other, which makes sense, following a season unlike any other. You can't expect things to start getting normal now.
For the next few weeks, we'll be taking regular looks at the top free agents, their top suitors … and ranking 'em. There are plenty of teams who want the top-tier options, the platinum plan, the Glengarry leads. But who's most likely to sign them? That's the goal of the Free Agency Power Rankings: To give you our best guess.
Previously, we looked at the suitors for Trevor Bauer. J.T. Realmuto and then Marcell Ozuna.
Today, we look at George Springer. Springer is the 2017 World Series MVP, though it is undeniable that the team he won that MVP for, and the circumstances surrounding that team, have changed dramatically since that happened. Fortunately for Springer, it's difficult to argue he should have any sort of shadow hanging over him: His best two seasons have been the past two, and he has become a legitimate 30-plus-homers-a-year hitter. He also strikes out far below the league average, he's a smart, fast baserunner, and he can still play a splendid center field. Who wouldn't want George Springer on their team?
But which team will get him? Let's rank the likelihood of some Springer predictions.
1. Astros
To be fair, if you're asking me to pick between the Astros and The Field, I'd absolutely pick The Field. The Astros have plenty of outfield holes and it's not like there's this overwhelming sense that the team is trying to reassure its fans that it's not going to lose its longtime star. The best guess is still "other team." However, the market for Springer is a fascinating one, one that is surely going to take a long time to develop. After all, he might be the best overall player on the market, he's not that old, and he's going to want a long-term deal. Even in a pandemic, a team is going to give that to him.
But even acknowledging all of those things working against Houston, it does have one thing working in its favor: an existing relationship. The longer this free agency courtship goes on -- and it seems to be shaping up to be quite the long haul -- the more teams may settle up their rosters and thus drop out of the bidding, and then the more likely it is the Astros (again, a team that obviously needs him) can hang in. The guess here is that he probably leaves. But the guess here also is that, with no obvious team leaping out at him above the others, the Astros can hang in the mix for a while. It's a marathon, not a sprint.
2. Mets
This was my colleague Mike Petriello's pick, and it's not difficult to see why. They are, after all, a team with a new owner, seem to have money to spend, and Springer is a game-changer of a free agent. The question is where the Mets should focus that money, considering the clear fits of both Trevor Bauer and J.T. Realmuto, and the less-clear fit of Springer in a semi-crowded outfield. But you want to improve the Mets immediately? Signing George Springer is an excellent way to do that.