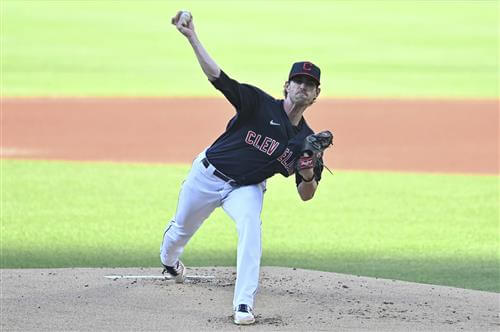 Opening Day delivered a bit of everything. We had dominant starts by veteran aces and eye-popping hits from dynamic rookies. We also saw a star slugger return from a two-year absence, some smiles, and the realization that the sport we love is back.
There were also some moments that made us stop and think. Social justice was a theme, as every game featured both teams holding a 200-yard black cloth along the baselines during the pregame ceremony in a statement of unity. Across the league, players wore "Black Lives Matter" T-shirts during batting practice, and we saw some take a knee during the national anthem.
When the games started, it was with a day filled with the very thing we've waited so long to return to. Here are 11 memorable moments from Friday's games:
1) Biebermania
If Shane Bieber is not already a household name, he soon will be. On Opening Day, he had the Royals flailing at his knee-buckling curveball and lunging at a changeup that simply vaporized out of the strike zone.
In a performance that was both dazzling and dominant, the Indians' 25-year-old right-hander turned in a 14-strikeout six-inning gem in his first Opening Day start. (The Major League record for strikeouts on Opening Day is 15, held by Camilo Pascual of the 1960 Senators.) Bieber passed Bob Gibson and Lon Warneke for the most strikeouts without allowing a run on Opening Day in MLB history. The Royals swung and missed 21 times against Bieber, and struck out 18 times overall, the most in a nine-inning game on Opening Day.
In his last 34 regular-season starts, Bieber has allowed two earned runs or fewer 22 times. He was also the Most Valuable Player of the 2019 All-Star Game.
2) Speaking of household names, there's Kyle Hendricks
He was one out from a complete game on Opening Day when Cubs manager David Ross walked to the mound and asked how he was feeling. Hendricks smiled and said several times: "I'm good." OK, then.
Moments later, he got a routine grounder to finish a 103-pitch, three-hit, 3-0 shutout of the Brewers. Not one of those 103 pitches touched 90 mph, a reminder that pitching can be about more than just velocity. He became the first pitcher since Clayton Kershaw (2013) to throw an Opening Day shutout. All three Milwaukee hits were by the No. 9 hitter, shortstop Orlando Arcia. (More on him later in our program.)
3) Luis Robert and a 115.8-mph MLB debut
Were we overhyping the kid? Raising expectations to an unreasonable place? Or maybe, just maybe, was the 22-year-old White Sox outfielder -- ranked as the third-best prospect in baseball -- every bit as good as advertised? All he did on Friday was turn the first pitch he saw in the Majors into a 115.8-mph single. The White Sox had only one harder-hit batted ball in all of 2019: 117.9 by by José Abreu.