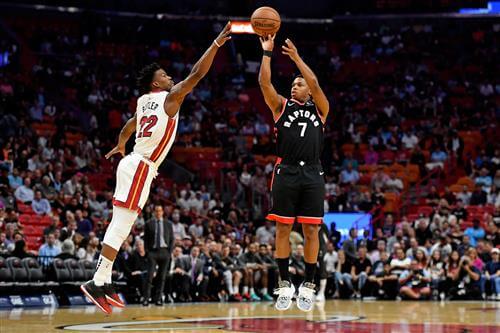 The Miami Heat are a team that went to the Finals during the 2019-20 season, with Jimmy Butler as the star that led them there. It is clear that they have good pieces on the roster, but it seems as though they are a step away from true contention. This year's playoffs showed that, as they were unceremoniously swept by the Milwaukee Bucks, who are now in the NBA Finals.
A lot of teams generally add star power to be competitive. Star generally This article will focus on the Miami Heat creating a superteam for next season. The three players that the Miami Heat would target in this scenario are Kevin Love, Kyle Lowry, and Brandon Ingram. If the Miami Heat managed to acquire all of these players, then they would become contenders, as they would already have two All-Star caliber players on the roster in Jimmy Butler and Bam Adebayo. Here is how the Miami Heat could potentially create this superteam.
Acquire Kevin Love After Contract Buyout
There have been suggestions that Kevin Love could potentially get bought out by the Cleveland Cavaliers. He has been linked to teams in win-now mode such as the Golden State Warriors if that scenario were to occur. The Miami Heat would be a good fit for Kevin Love, and perhaps he could elect to join them.
Kevin Love is able to space the floor very well as a big man, which would be good for both Bam Adebayo and Jimmy Butler, as the two are non-shooters who thrive at the rim. Butler and Adebayo would also be able to cover for some of Kevin Love's defensive issues on the perimeter. On the Miami Heat, Kevin Love could take a smaller role on the offensive end with other offensive threats, and focus on finishing easy baskets at the rim and shooting open threes.