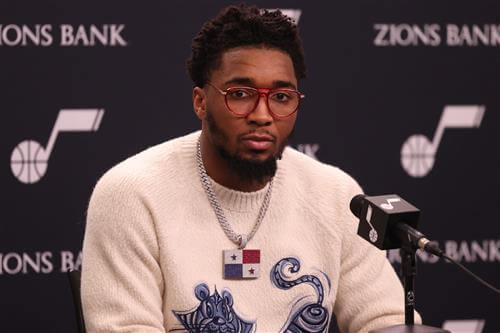 Nothing lasts forever. We know this to be true. Still, it feels like the dissolution of the relationship between NBA star Donovan Mitchell and the Utah Jazz is coming about rather abruptly.
The Jazz entered the 2021-22 season with legitimate title aspirations. As it stands, they're down 2-1 in the first round of the playoffs with a Dallas Mavericks squad that hasn't had the benefit of Luka Doncic's play yet. Their performance brings to mind a viral image of a cartoon dog enjoying a coffee in what appears to be hell.
This is fine.
It isn't. The Jazz still have time to dispel rumors of their demise. They can rally to defeat the Mavericks and make a deep playoff push. If they don't, they may find themselves parting with franchise player Donovan Mitchell this season.
In the event that they're forced to do so, they should call the Miami Heat. There may be a deal on the table that satisfies both sides.
Utah Jazz Receive: G Tyler Herro, C Omer Yurtseven, F Duncan Robinson, 2023 First-Round Pick (MIA), 2026 First-Round Pick (MIA)
Miami Heat Receive: G Donovan Mitchell