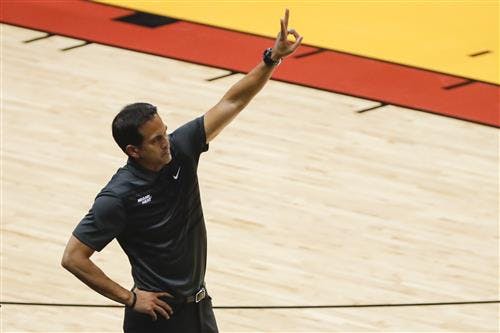 The Miami Heat secretly inked Erik Spoelstra to a four-year extension in 2019. His contract runs through the 2024 season and the thought of him leaving South Beach anytime soon is unthinkable.
The organization, namely Heat president Pat Riley, loves him. Spoelstra isn't going anywhere barring a complete meltdown, like failing to make the postseason or a personal decision to step away. That hasn't stopped the 50-year-old from receiving looks for other jobs around the league.
According to Marc J. Spears of The Undefeated, Spoelstra's name has surfaced on a short list of candidates to guide USA Basketball. Gregg Popovich recently completed his fifth and final year by leading the Americans to a gold medal in Tokyo. Now the exhaustive search of finding a suitable replacement has begun.
Spoelstra, a former video coordinator for Miami, would be an incredibly appealing choice due to his experience coaching Team USA's Select Team this past summer. He was a key resource for Popovich in Las Vegas and helped get the Americans ready for the Tokyo Olympics.
Other coaches to watch include Doc Rivers, Tom Thibodeau, Monty Williams, Nate McMillan, Jeff Van Gundy. One other face to monitor is Jay Wright, the head coach at Villanova University who served on Popovich's Olympic staff this year. Hall of Famer Grant Hill will make the final decision as the new managing director for USA Basketball.