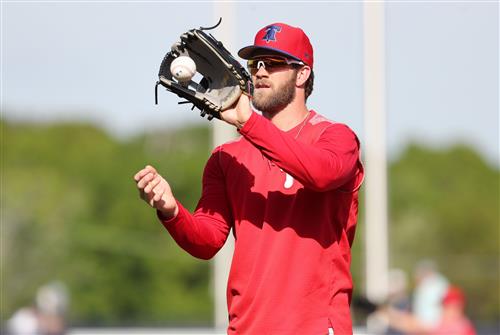 Earlier this month, the Bryce Harper saga reached it's most welcoming conclusion, as the All-Star outfielder signed a massive 13-year deal with the Philadelphia Phillies. Despite the late start to Spring Training, Harper is progressing in terms of playing time.
He did so on Wednesday night against the New York Yankees. Speaking of the Bronx Bombers, many speculated they would make a late push to sign him.
Harper addressed those rumors, telling the media that although he was a Yankees fan growing up, he was ?never contacted by the team, and he wasn't necessarily surprised.
Bryce Harper said he's excited to be in Philly, and that he never heard from the Yankees:

"I know the kind of outfield they have. They went out and got Stanton in that trade. Never heard from them, but everybody knew that growing up I was a huge Yankees fan."

— Bryan Hoch (@BryanHoch) March 14, 2019