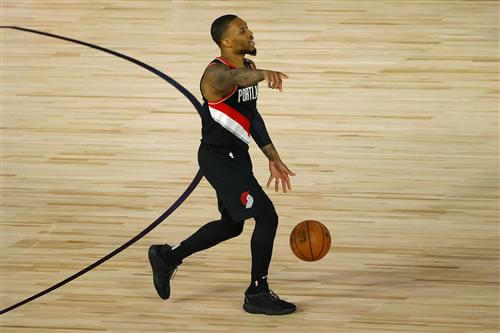 Damian Lillard is obviously among the best players in the NBA. A 5x All-Star, the Weber State product is coming off his best season yet — with averages of 30 points, 8 assists, and 4.3 rebounds per game on 46% shooting.
Despite the fact that neither he nor the Blazers have indicated any desire for a split, trade rumors have been flying regarding the future 30-year-old shooting phenom.
One recent scenario, recently published by Zach Buckley of Bleacher Report, may be the craziest we've seen yet. It involves a trade that would pair up Lillard with Steph Curry and Klay Thompson in Golden State.
Golden State Warriors receive: Damian Lillard, Trevor Ariza
Portland Trail Blazers receive: Andrew Wiggins, Jordan Poole, Eric Paschall, Kevon Looney, No. 2 pick, 2021 first-round pick (top-three protected via MIN) and 2026 first-round pick (top-three protected)