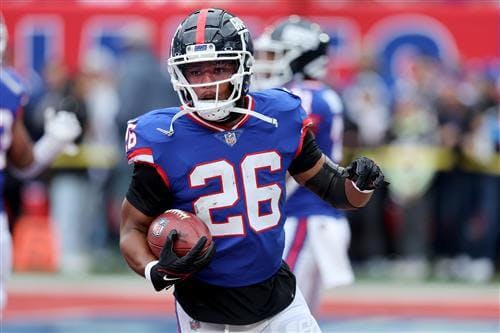 Saquon Barkley is back, and his resurgence thus far in 2022 is the primary driver behind the New York Giants' 3-1 mark. The 2018 No. 2 overall pick leads the NFL with 463 rushing yards and 570 scrimmage yards.
No other player in football has hit the 500-yard mark in that metric.
The good news for the Giants is Barkley is doing that at a reasonable cost of $7.2 million for 2022. The bad news for the Giants is they can't expect that in 2023 or beyond.
Even if the 25-year-old remains relatively healthy and super productive for the remainder of the season, re-signing him to what would be a lucrative long-term deal at the conclusion of his five-year rookie contract would be a mistake.
Why? Well, for starters, precedents indicate that even if Barkley keeps this up in 2022, it won't be enough for a team like the Giants to make a deep playoff run. If that doesn't happen with a dominant back at his best, what's the point in repeating that? Even the best running backs are rarely difference-makers in this era, and at least one desperate team would surely give Barkley difference-maker-level money next offseason.
That desperate team might be willing to sacrifice the long-term future and might see a player like Barkley as the final piece to a Super Bowl puzzle. Fine, but the Giants aren't even on the brink of being in a position like that. It's all relative.