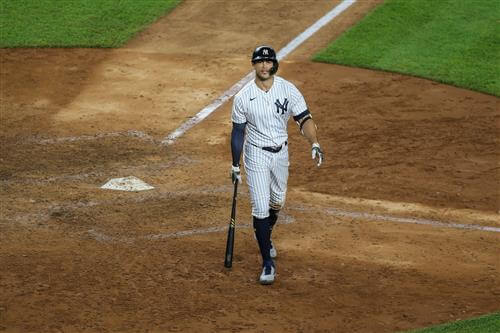 On the day that Giancarlo Stanton was formally introduced as the newest member of the Yankees, proudly posing with a pinstriped jersey at the 2017 Winter Meetings, the slugger assured questioners that he would have no desire to opt out of his contract in 2020.
That stance has not changed. As it was then, Stanton's plan is to remain with the Yankees for the duration of his contract, which can expire after the 2027 season, a source confirmed to MLB.com's Mark Feinsand on Friday. Neither Stanton nor the club has confirmed.
Considering Stanton has missed most of the last two seasons due to injuries and is owed $218 million over the next seven years, his decision not to opt out represents no surprise.
Even before the coronavirus pandemic altered baseball's financial landscape, Stanton would have experienced great difficulty finding a team willing to improve upon the terms of his current deal.