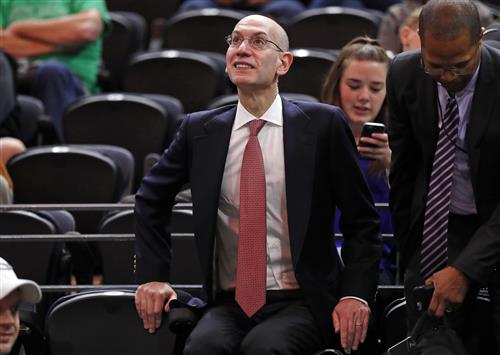 In a move that could challenge the NCAA's monopoly on elite talent, the NBA's G League is creating a new venture as an alternative to the one-and-done route for the best American basketball prospects, league president Malcolm Turner told ESPN.
As part of a newly formed "professional path" starting in the summer of 2019, the G League will offer "Select Contracts" worth $125,000 to elite prospects who are at least 18 years old but not yet eligible for the NBA draft. It will target recent or would-be high school graduates who otherwise would have likely spent just one season playing college basketball, enticing them not only with a six-figure salary but also the opportunity to benefit from NBA infrastructure, as well as a bevy of off-court development programs "geared towards facilitating and accelerating their transition to the pro game," Turner said.
Without the restrictions of the NCAA's amateurism rules, players will also be free to hire agents, profit off their likeness and pursue marketing deals from sneaker companies and the like, which could be worth hundreds of thousands of dollars in endorsement opportunities to top prospects.
In April, the Commission on College Basketball recommended that the NCAA and NBA embrace alternative options for one-and-done caliber prospects.
"Elite high school players with NBA prospects and no interest in a college degree should not be forced to attend college, often for less than a year," commission chair Condoleezza Rice told the Associated Press. "One-and-done has to go, one way or another."
While changes to the NBA's age limit likely won't be implemented until the 2022 draft, the league considers this a response to such criticism.
"The broader basketball community has called for the NBA to enhance our G League offerings," Turner told ESPN. "We believe this is an answer to that call. We believe this is a thoughtful and responsive answer."
Through its unique new partnership with USA Basketball, the NBA will have a captive audience of America's most elite prospects during the NCAA Final Four in April and at the USA Basketball Junior National Team minicamp in October, where the G League will look to introduce this professional path to the many future NBA players in attendance, as well as their families, according to Turner.
Seven of the top 10 high school players in the 2019 ESPN 100 remain uncommitted to college programs, and the G League landing any of them could have huge ramifications -- for future paths to the draft for star players, the popularity of the NBA's development league and the college basketball talent pool.
Turner said the league will not pursue those players who have already committed to colleges, but the professional path would be an alternative to those prospects who make a choice on their own to decommit. Turner also said the G League will be selective with the players they look to bring into the program -- with a strong emphasis on character and readiness to join a pro league.
Many important details are still yet to be decided, including the way in which elite prospects are identified, pursued and then assigned to G League teams. How many players will the G League look to include in its first iteration of this venture? Who will determine which prospects are good enough to make the cut? Will this venture be open to international players as well, including Canadians or Australians who often matriculate to the NBA via American high schools or college basketball? What about Europeans?
These are questions that Turner says will be answered in the near future with the help of a soon-to-be-hired dedicated program manager who will oversee the G League professional path, as well as a working committee that will tackle many of these tasks.