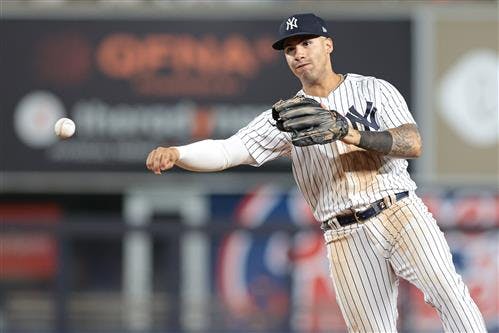 Dr. Frankenstein has his laboratory, and we have ours. The only difference is that ours is strictly for cooking up trade proposals during times when there's not a whole lot happening with Major League Baseball's news cycle.
In other words, right now.
Our latest round of tinkering yielded seven trade proposals—of a purely theoretical and speculative nature, mind you—concerning players who remain attractive trade targets even as spring training draws near. It was all about looking for fits for them and then thinking of ways a deal could actually come to fruition.
Because nobody ever pitches a trade proposal with 100 percent confidence, we also sought to interrogate the practicality of each proposal with a good, ol' "Who Says No?" section.
In any case, we'll check these deals off in ascending order of plausibility.
7. Ha-Seong Kim to Atlanta
The Proposal: Atlanta gets SS Ha-Seong Kim, LHP Adrian Morejon; San Diego Padres get RHP Ian Anderson
Atlanta is on track to have Vaughn Grissom and Orlando Arcia compete for the club's starting shortstop gig in spring training. It's not an ideal scenario, as Grissom is unproven at short and Arcia hasn't played the position regularly since 2020.
Meanwhile, Dennis Lin of The Athletic reported in December that the Padres could be open to moving Kim or center fielder Trent Grisham for a starting pitcher. Kim seems like the more logical choice to go in our eyes, as it just seems like a waste to play him at second base after he was a Gold Glove finalist at shortstop last season.
A swap of Kim for Anderson, who fell out of favor with Atlanta in 2022, would be reasonably fair talent-wise, but less so the extent that Kim is signed through 2024 while Anderson is controlled through 2026. Thus, Morejon would also go to Atlanta to balance things out.
Who Says No?
Whether two top-tier National League contenders would do this kind of trade with one another is suspect enough. And Atlanta's end is perhaps especially suspect, as they need Anderson for depth and Grissom has upside that simply can't be ignored.
The 22-year-old may have hit a wall at the end of last season, but before that he'd had tons of helium after starting the season at High-A, moving to Double-A and then skipping past Triple-A to the majors, where he was hitting .347 after 26 games.
6. Edward Cabrera to the St. Louis Cardinals
The Proposal: St. Louis Cardinals get RHP Edward Cabrera; Miami Marlins get LF Tyler O'Neill, SS Paul DeJong, OF Alec Burleson, SS Masyn Winn, RHP Gordon Graceffo
According to a January report from Ken Rosenthal of The Athletic, the Cardinals and Marlins have had talks about the latter's starting pitchers. This was notably before the Marlins dealt Pablo López to Minnesota, but let's assume the door remains open by way of Miami's still-dire need for offensive help.
That's where O'Neill, DeJong and Burleson would come in. The first two have upside as 30-homer sluggers who play Gold Glove-caliber defense, while Burleson had a .905 OPS at Triple-A last year. He's one of St. Louis' five best prospects, as are Winn and Graceffo.
In Cabrera, the Cardinals would get a pitcher with six more years of club control and, as denoted by electric stuff and results that included a 3.01 ERA in 14 major-league starts in 2022, huge upside. Their rotation needs a guy like that, especially with four members of it ticketed for free agency this coming winter.
Who Says No?
It's indeed quite a leap to assume the Marlins would trade another starter even after moving López, and then there's the question of whether St. Louis would make this trade.
Cabrera is certainly talented, but he hasn't proven to have the kind of durability the Cardinals need to paper over the age-related question mark attached to Adam Wainwright and the injury-related ones attached to Jack Flaherty and Steven Matz.