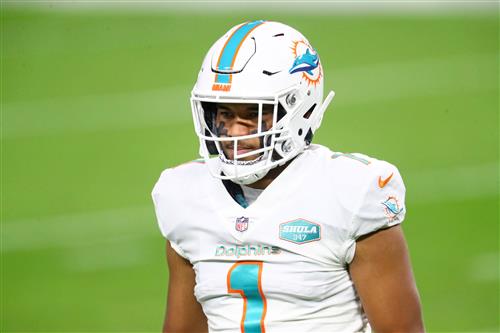 The Miami Dolphins are reportedly nearing a trade for Deshaun Watson, which leaves 2020 No. 5 overall pick Tua Tagovailoa as the odd man out. Tua has taken a large portion of the blame for Miami's 1-5 start this year, which is fair to an extent. He missed three games after breaking his ribs and in the three games he did play, he has been underwhelming. In two and a half starts this season, Tagovailoa has mustered 544 yards and three touchdowns in the air, with two interceptions.
It's still far too early to consider the jury out on Tagovailoa, but he doesn't look anything like the quarterback who dominated college football for nearly three full seasons. It's especially bad when he's compared to Justin Herbert, the guy who got drafted after him and looks like a 10-year vet already. Fair or not, the Dolphins seem ready to move on from their former first-round pick. But Tua is not so far removed from college that people have forgotten just how damn good he was.
So, if the Dolphins really do land Watson, Tagovailoa will be on the market and there will be suitors. Assuming the Watson deal is done, the price for Tua would not be nearly as high as you'd think for a quarterback taken in the first round less than two years ago. The Dolphins would probably ask for a handful of mid-round picks to wipe the slate clean and start fresh with Watson (which comes with its own... complications, but we'll leave that for another day).
Where could Tua end up? Here are four possible options.
Houston Texans
One would think that if the Texans are finally trading their franchise quarterback, they would be interested in acquiring someone who could replace him. Tua didn't shine in his rookie season like Watson did, but Houston has nobody on the roster with the same talent Tua showed at Alabama. Davis Mills is fine and so is Tyrod Taylor. Neither have the ceiling Tagovailoa does. It seems simple and obvious to include him in any Watson trade.