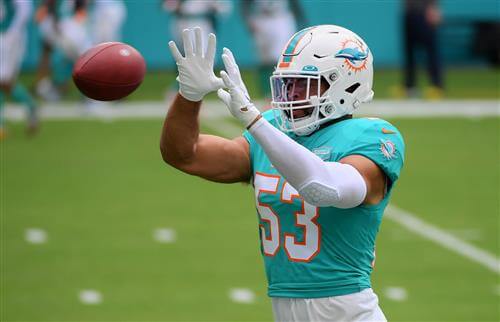 Kyle Van Noy was an underutilized linebacker in Detroit before he was traded to the New England Patriots in 2016. Bill Belichick figured out exactly what it was that Van Noy did well, and suddenly he looked like a star in Foxborough. Van Noy produced for three seasons before hitting free agency. The Pats bid him adieu and the Miami Dolphins signed him to a big deal, worth $51 million over four years. After one year, the Dolphins decided Van Noy wasn't worth the money and are now expected to release their free-agent prize from last season.
We have seen that story unfold countless times over the course of the Patriots' dynasty. Belichick squeezes the most out of the players under his tutelage, they get overpaid because of it, and then they hit the open market again. It's not that Van Noy is a bad player, he just isn't as good outside of New England. Now he is on the open market once more after recording 69 tackles, six sacks, 10 QB hits, and 10 tackles for loss in 2020. Here are four places he could end up.
New England Patriots
It makes too much sense not to close the loop here. As tradition goes, Belichick lets a guy walk, gets a compensatory pick, then brings him back on the cheap. It's very realistic that could happen here because the Patriots' linebacker core was a huge problem last year. Dont'a Hightower will presumably return to the field of play in 2021, which will help considerably, but New England still needs reinforcement given how weak their defensive line is. Van Noy would give them good depth while adding the ability to rush the passer. He knows the defense and could contribute from Day 1. The Patriots have a huge amount of cap space to work with this year. He's a natural fit.
Denver Broncos
Given nobody knows what's going to happen with the Von Miller situation, the Broncos and their projected $47 million cap space should take a look at Van Noy. He doesn't do exactly what Miller does and obviously is not nearly as good at rushing the passer, but he can provide pressure as a versatile piece for the defense, once the foundation of Denver football.