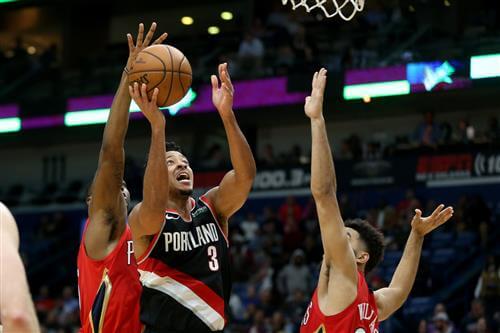 The Portland Trail Blazers' season is done and change is coming. Last night, the organization parted ways with Terry Stotts, who had been at the helm for the last nine years and presided over a series of good teams but never managed to take that next step to greatness.
It is very likely not the only big change coming for this team. The Blazers cannot compete for championships as currently constructed. They're a great offensive team but an awful defensive team and their first-round series loss to the Nuggets exposed how weak Damian Lillard's supporting cast can be on the wrong nights. The roster doesn't need to be blown up, necessarily, but it needs a serious overhaul.
Read More - Lakers' LeBron James looks fed up with Kyle Kuzma
The biggest possible move Portland can make is moving C.J. McCollum, and it makes sense, too. McCollum is a good 20 point-per-game scorer who can usually pick up the offensive slack when Lillard is off. But he can't defend worth a lick and is the most attractive trade piece on the roster to help build a better squad around Lillard's scoring. The Blazers will almost certainly gauge the trade market for McCollum. It won't be a piece of cake to move his three-year, $100 million contract that kicks in this season, but it's definitely doable.
With that in mind, here are four possible trade partners for McCollum's services.
New York Knicks
This would be more of a cap dump than anything for Portland. The Knicks have enough cap space this summer to absorb McCollum's contract without needing to send back $33 million in salary. McCollum gives the Knicks another go-to scoring option to help take the load off Randle's shoulders and his defense won't be nearly as big of an issue in a Tom Thibodeau-designed scheme. It's not quite the superstar acquisition New York is undoubtedly hoping to use their cap space for, but having a bucket-getter like McCollum elevates the team's ceiling and sets them up to be good for the next few years. Portland can use the cap space to improve the roster as they see fit.