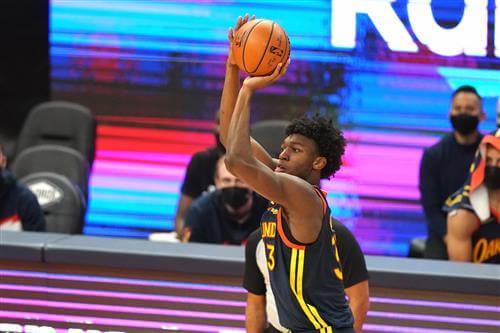 Everyone expects the Golden State Warriors to move James Wiseman this offseason. The second pick from the 2020 NBA Draft is an immensely talented 7-footer, but he doesn't quite fit what the franchise is trying to do. The fact that he's 20 and still figuring out his game also clashes with the team's need to win now while Stephen Curry is still at his best.
That means he's likely to get moved, and could be paired with the seventh pick in the 2021 NBA Draft to find the Warriors a star this summer. Given Wiseman's paltry rookie salary, it will take a lot of maneuvering to move him for a star-caliber player. There aren't a ton of options out there that fit the bill.
We came up with four legitimate possibilities.
Toronto Raptors
This is the most talked about fit, as the Toronto Raptors attempt to retool following a tough season. The Warriors would come out of any deal with the Raptors getting Pascal Siakam, the kind of versatile wing player they've been missing. Siakam regressed a bit during the 2020-21 season but that was mostly due to the immense pressure he was under to be the team's No. 1 option. He wouldn't have that issue with Golden State.
Siakam averaged 21.4 points, 7.2 rebounds and 4.5 assists in 35.8 minutes per game this season. His 3-point percentage dropped from 35.9 percent in 2019-20 to 29.7 percent this year but, again, he was expected to carry a huge scoring load and that likely wore him down. He's only 27 and in his prime, a bounce-back is almost certain.
For this trade to work, the Warriors would need to attach Wiseman to Andrew Wiggins' contract, and throw in the seventh overall pick in the 2021 NBA Draft. Toronto already holds the fourth pick, so the seventh pick and the 20-year-old Wiseman would almost be like an immediate rebuild. Wiggins only has two more years on the five-year, $147.7 million deal he agreed to back in 2017, so that's easy enough to swallow to get Wiseman and a top pick.
This deal makes sense for both teams. The Raptors have Fred VanVleet and OG Anunoby to lead the charge now, but picking up three top picks in two years could jumpstart a trip back to the top of the Eastern Conference.
Portland Trail Blazers
The Portland Trail Blazers need new blood after another first-round playoff exit and they get a retool with this deal. In this scenario, they would land Wiseman (with Wiggins' contract attached) plus the seventh and 14th picks, in exchange for CJ McCollum and 3-and-D specialist Robert Covington.
In McCollum, the Warriors would get another perimeter scorer who is used to playing a secondary role and hit 40.2 percent of his 3-point shots this year. But he's also a guy who does more than shoot, as he averaged career highs in points (23.1) and assists (4.7), and posted a career-best PER (20.81) this season. Covington bounced back to hit 37.9 percent of his 3-pointers and would fit incredibly well into what the Warriors do offensively.
For the Blazers, the appeal of this trade is obvious. The Damian Lillard-McCollum pairing hasn't worked. Now they get a young, versatile big man and two lottery picks to rebuild with. Wiggins is an excellent defender who isn't worth his contract but it's an acceptable price to pay to get Lillard some help.