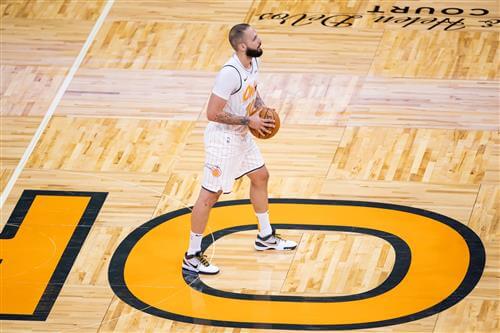 NBA free agency started off with a bang Monday afternoon with a flurry of deals that saw stars and role players gobbling up contracts quickly. As with any major spending spree, bad contracts are going to be signed. That's what we're here to examine.
Here are the five worst contracts signed on the first day of NBA free agency.
Evan Fournier, New York Knicks (Four years, $78 million)
The Knicks made a mistake here. Don't get me wrong, Fournier is a nice player and can do some things on the court, but this was too much money. He put up 19.7 points per game in 26 games for an awful Orlando Magic team last season, which is certainly enticing. But after a trade to the Boston Celtics he came back down to Earth. In 16 games in Boston he averaged 13.0 points, 3.3 rebounds and 3.1 assists in 29.5 minutes. On a decent team, that's about where you can expect his averages to land.
While some will point to his 46.3 percent shooting from three-point range while in Boston, it's highly likely that was an anomaly. He's a career 37.9 percent three-point shooter, so expect him to slot in somewhere around there. It's worth noting that Fournier ranked 168th in win shares (2.8) and 103rd in value over replacement player (1.0).
Fournier is a 28-year-old scoring guard who didn't suddenly learn to be a star. An average annual value of $19.5 million is far too steep for a player of his caliber.
Chris Paul, Phoenix Suns (Four years, $120 million)
This isn't about Chris Paul, it's about the length of the deal. He'll be 40 by the time it's up and this was far too long to sign an older point guard who has struggled with injuries throughout his career. While all of the money likely isn't guaranteed and we're not 100 percent sure of the structure, at the very least Paul is due $60 million over the next two years and the third season almost certainly carries some guarantees. That's a lot of cash.