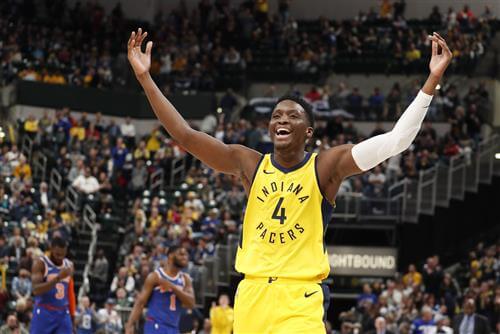 On Monday we learned that Indiana Pacers star Victor Oladipo is looking to move on this offseason via The Athletic. Oladipo became an All-Star during the 2017-18 season as the former No. 2 overall pick realized his potential in Indiana. But back-to-back injury riddled seasons have lessened the 28-year-old's value as he's been trying to lock down a contract extension with the Pacers. The two sides are far apart and it feels like they are headed for a breakup.
During his last fully healthy season (2017-18), Oladipo was a lockdown perimeter defender who averaged 23.1 points, 5.2 rebounds and 4.6 assists per game while shooting 47.7 percent from the field and 37.1 percent from 3-point range. He also showed a penchant for hitting clutch shots.
Oladipo still carries a ton of value and if he can get healthy there's no reason he couldn't reach those numbers again. What follows is a list of five teams the Pacers could trade their star guard to.
Los Angeles Lakers
A few weeks ago I was told by two Lakers sources that the team intended to pursue Oladipo this offseason. At the time I dismissed it because I had no reason to believe he'd be on the move. Monday's news obviously changes things. The Lakers would love an athletic perimeter defender who can make plays and hit shots. He'd balance the floor for Anthony Davis and LeBron James and could be a great fit.
Finding the pieces to do a deal will be an issue with this pairing. The Lakers can find the money but I'm not sure it would entice the Pacers. Danny Green is due $15.3 million, Kentavious Caldwell-Pope is due $8.5 mil (if he opts in), while Kyle Kuzma is set to make $3.5 million. A combination of two of those guys with Alex Caruso ($2.75 million) thrown in could likely be a match. But would that be attractive enough for the Pacers? On the plus side Green and KCP could come off the books after the 2020-21 season, leaving the Pacers with some cap space to play with.
Given his legitimate singing career, Oladipo would likely be happy with a move to LA.
Boston Celtics
The Celtics fell just short of the NBA Finals and now they have to figure out what to do next. Do they continue to build with the current pieces and figure out a way to improve, or should they rework the roster with a dramatic move? Obviously in this case, we're betting the latter.