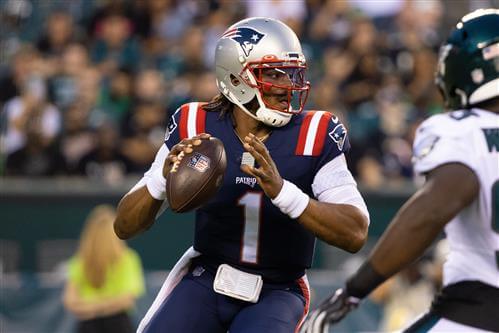 Immediately after Cam Newton's release from the New England Patriots prior to Week 1, many assumed it wouldn't be long before another team signed the 2015 NFL MVP.
Personally, I figured Newton would have landed with another team quickly, possibly in a role with a chance to compete for the starting gig somewhere, perhaps with the Houston Texans. Obviously, it never happened, but now Newton is back in the news after he decided to get vaccinated. Could his new status make a team, or some teams more inclined to offer Newton what he's looking for on the open market?
While Newton is still reportedly holding out for a starting role, the league currently has very few opportunities available. Here are five NFL teams who should still look to sign Newton as soon as possible.
New York Jets provide Zach Wilson with experienced backup
The 2021 rookie class of quarterbacks haven't experienced as much immediate success as we saw from Justin Herbert and Joe Burrow in 2020. New York Jets rookie Zach Wilson has thrown nine interceptions, more than any other NFL QB through five games. In fact, the Jets' signal-caller is on pace to break Peyton Manning's record for the most interceptions by a rookie quarterback in NFL history (28).
At 1-4, Gang Green won't be competing for the playoffs this season and while it's hard to argue against pulling the player they selected second overall just months ago, it might serve Wilson well to learn from the bench for a bit. It wouldn't surprise anyone if coach Robert Saleh removed Wilson late in the season if the Jets find themselves at say 3-12 with Wilson on the cusp of shattering Manning's interception record.

Having someone like Newton offers a chance to see how the offense operates with a veteran under center while protecting their young quarterback from any further embarrassment. It also wouldn't hurt to have a more capable backup.
Dallas Cowboys add to QB room with Cam Newton
Back from injury, Dallas Cowboys quarterback Dak Prescott looks as good as ever. However, what if… I shouldn't say it. But the Cowboys need a viable backup QB. Being that Prescott's status as a starter is firmly entrenched, having Newton looking over his shoulder shouldn't be an issue for either ego, er quarterback.
The best part is the Cowboys could still use Newton in goal-line scenarios, creating the ultimate triple-option threat without putting their franchise guy in harm's way. Newton can use his strong frame to take the beating when keeping the ball, while still surprising teams with a red zone toss here and there. Come on Jerry, make it happen.