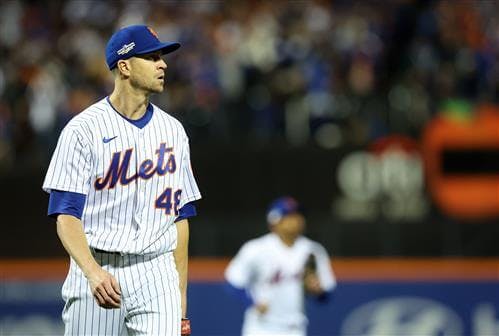 Jacob deGrom declined his option to return to the New York Mets, making him MLB's most desirable free agent pitcher this winter. When healthy, the 34-year-old is the most dominant starter in baseball. In 2022 he went 5-4 with a 3.08 ERA, 0.75 WHIP and 102 strikeouts in 64.1 innings. But he only made 11 starts.
The issue with deGrom is that he's only made 26 starts in the past two season thanks to various injuries. He's unhittable when he's right, but he hasn't been consistently healthy since 2019. Despite those concerns, multiple teams will be throwing top cash at deGrom. Here's a look at five teams who could dive in and snag him this winter.
New York Mets
The most likely path here is for deGrom to re-sign with the only franchise he's ever known. The Mets have the money to bring him back and desperately need rotation help with Chris Bassitt and Taijuan Walker hitting free agency this offseason. It feels like both parties would like a reunion, and if the contracts are equal, deGrom will likely be back. It will all depend on how high the Mets are willing to go to retain their ace.